Right now is both the perfect and imperfect time for George Mason to be heading to their lone preseason tournament of the year the Cancun Challenge.
First, the team is coming off of the best performances they have seen from all of their freshmen. Goanar Mar had his first of many double-doubles in the Green and Gold, while the bench finally showed up. In addition to A.J. Wilson's incredible all-around performance, Greg Calixte and Javon Greene put together some key minutes. Combined the two had five points and eight rebounds in 30 minutes of action. Short-rest and a vacation atmosphere is the perfect recipe to keep that momentum going and internalize it before the thick of the season.
On the flip side, no one knows the extent of Jaire Grayer's and Justin Kier's injuries from Saturday. Not having the team's best rebounder and the best shooter at 100 percent, can leave holes before their first game on Tuesday.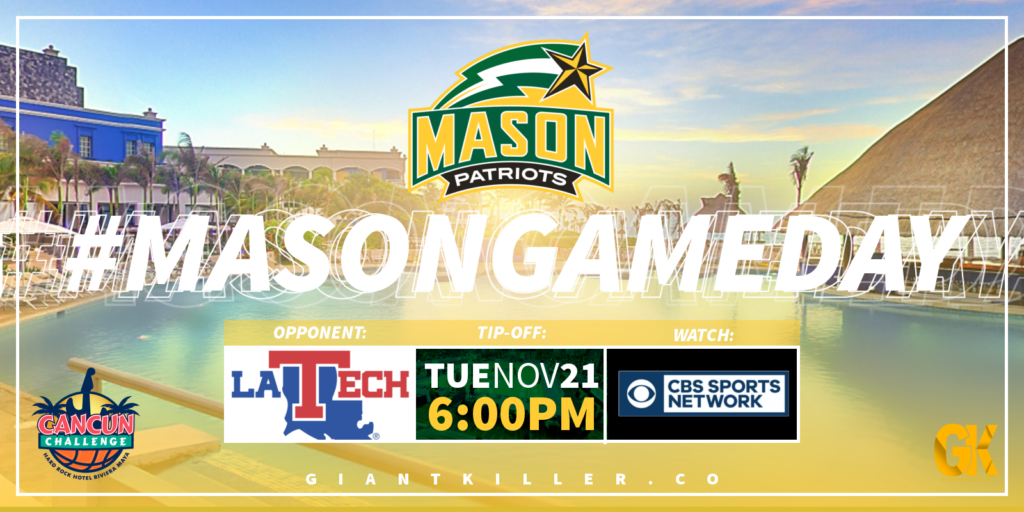 In the opening round of the Cancun Challenge, George Mason (3-1) will play Louisiana Tech (3-0) from Conference USA. Preseason picked to finish third in the one-to-two bid conference, the Bulldogs are always a lock to garner 20 wins.
Part of that is due to their head coach, Eric Konkol entering his third season with the team. Recognize that name? Konkol was an assistant under Jim Larranaga at George Mason for seven seasons between 2002-2011.
This season, the Bulldogs have had a relatively easy start to the year. They've played the University of Texas-Tyler, Southeast Missouri State, and Montana State. Without discrediting the other schools, it is fair to say George Mason will be their toughest match-up so far.
Their typical line-up is three guards, a forward, and a true center. Like all other opponents, they will have a size advantage over Mason, but that is not where the Bulldogs make their living. Combined, their starting forward and 7-0 center, Joniah White avaeraged 10.0 points and 7.6 rebounds. That is slightly below Grayer's numbers this year as a 6-5 guard.
But they do shoot and they shoot from all over the court. Lay-ups, mid-range, and from three point land they like to put up the rock. This season they have been real effective, shooting 50 percent from the field albeit against lesser opponents. Sophomore guard Jalen Harris will be a tough match-up, likely for Grayer if fully healthy. He scores 22 points a contest and is just like Grayer and Kier in the attacking basket.
Here are three things to watch for vs. Louisiana Tech:
Offensive rebounding; the Bulldogs give up 12.7 offensive rebounds a game, there could be a real advantage here for Mason
Defensive discipline; Mason was all over the place in the first half vs. CSUN, Louisiana Tech presents the same problem
Points off turnovers; Louisiana Tech protects the ball, Mason can swing momentum their way if they capitalize
The game is set to tip-off at 6:00 ET and is available to watch on CBS Sports Network. Double check your cable subscription because most basic plans do not get this channel; most bars do. All Cancun Challenge tournament games on Tuesday and Wednesday will be on CBS Sports Network.
#MasonRecords watch:
Overall three pointers:
Jaire Grayer (113) is five three pointers behind Brian Miller for 13th all-time.
Otis Livingston II (102) is five three pointers behind Sherrod Wright for 15th all-time.
Overall assists:
Otis Livingston (236) is five assists behind Luke Hancock for 21st all-time
Prediction: Mason 74, Louisiana Tech 69
Prediction Record: 4-0
Mason will either play Fresno State (2-1) or Evansville (4-0), win or lose. Both these teams playing fellow Cancun Challenge opponents early in the season Mason is familiar with. For the Bulldogs, they beat Cal State Northridge 89-73 and the Purple Aces beat Binghamton 66-61.
Fresno State is in the strong Mountain West Conference, looking to get multiple teams back into the NCAA Tournament this year. They shoot the ball really well and have some dagger players coming off of the bench. Overall they are an extremely balanced team.
Evansville hails from the Missouri Valley Conference with simple, clean basketball. Red-shirt junior Ryan Taylor averages 24 a night while his right hand man, Dru Smith averages over seven assists.
They face each other at 8:30 p.m.
If Mason were to play Fresno State, my prediction is Fresno State in a close one, pulling away late. If Mason played Evansville, my prediction is the Patriots in another close one, perhaps overtime with a three-five point difference. NOTE: This may change based on how all four teams play on Tuesday.