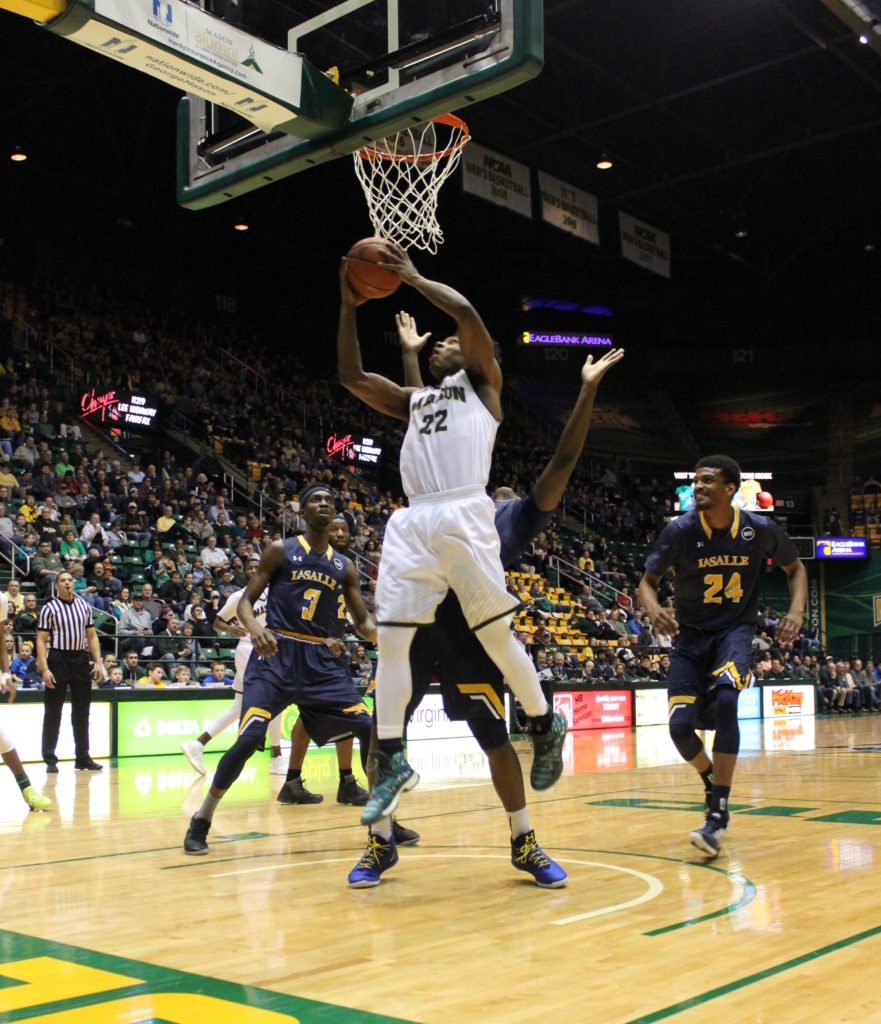 Throughout conference play, George Mason has been on the verge of breaking above .500 in the Atlantic 10. For the sixth time this season they are given that chance when they travel to Davidson on Wednesday night.
In their four year history in the league, the team has never been above the mark besides a 1-0 start in the 2014-15 season.
When George Mason (15-8, 5-5) heads down to North Carolina, they will arguably be the hottest the team has been all season. Coming off a 95-75 romping of La Salle, four of Mason's starters are playing at the top of their game. In that contest those same four players recorded over 16 points each in a balanced scoring attack.
All year Marquise Moore has been a rock for the Patriots consistently bringing in 17.8 points and 10.4 rebounds a contest, the only guard in the country averaging a double-double.
As of late, his supporting case has been helping him bear the weight.
Fellow senior Jalen Jenkins has helped Moore control the paint, as the only forward who plays more than 10 minutes. He averages 11.2 points a game along with 5.9 rebounds. The problem for Jenkins is that as the only big, with no interior help at the rim defensively, and he gets into foul trouble.
When he is not racking in fouls, at 6'7″ he opens up the court for Mason and tightens it on defense.
Both Jaire Grayer and Otis Livingston II have both found their form at the midpoint of Atlantic 10 play. Throughout the season both players have struggled shooting from distance but the last contest saw two of their best nights on the season.
With a perfect shooting night from Livingston (5-5 FG, 3-3 3pt, 6-6 FT) and a season high 22 points from Grayer, all levels of Mason's offense is clicking.
Mason will need all the production from these players as they can get with the suspensions of Ian Boyd, Kamari Newman, and Danny Dixon. The bench has essentially been cut in half, with the only to bench producers (Boyd and Newman) now out.
For Davidson (12-9, 5-5) they are a team that relies on two scorers, Jack Gibbs and Peyton Aldridge. Together they average 42 points a game and have taken nearly half of the team's shots on the season.
This season, Wildcats opponents have been successful for shutting out just one of these scorers in order to get a win.
It is easier said than done. Gibbs is one of the most talented shooters in the conference and Aldridge is a matchup nightmare at 6'8″. And Aldridge is not even their tallest starter.
With Jenkins preoccupied with Will Magarity (6'11 center) in the post, it will be interesting to see who Dave Paulsen selects to guard Aldridge. Given the matchups, Moore might be the best option to cover the talented forward who is Davidson's best three point shooter.
This will leave Livingston on Gibbs, with Grayer as an option to help on the interior.
Davidson is not a team that will force opponents to turn the ball over and have allowed teams to shoot over them, the only problem is that it is tough to keep pace with their offense. Every starter is a three point threat for the Wildcats.
Mason's three keys to the game:
1. Offensive Rebounding
2. Limit fouls
3. Stay tight defensively
If Mason wins this contest, not only will they be above .500 in conference play, they will also clinch a winning regular season for the first time in three seasons.
Already George Mason has guaranteed they will not have 20 losses for the first year since 2013.
Prediction: Mason 82     Davidson 76
Prediction Record: 14-9