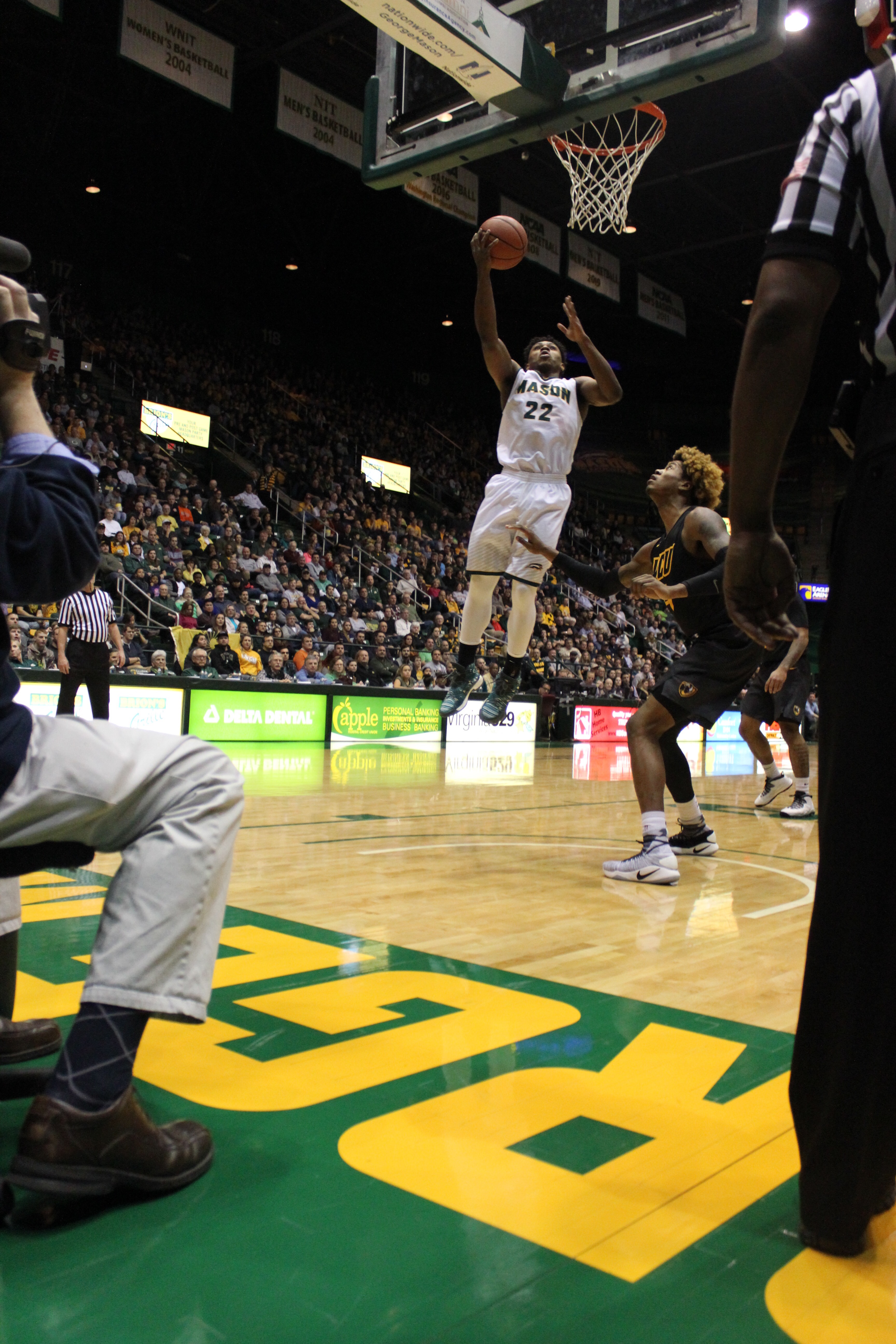 It was the good-old days in the Patriot Cen… uh EagleBank Arena; George Mason vs. VCU in a slugfest from opening tip to the final buzzer.
Unfortunately for Mason, VCU beating the Patriots at their own game and pulled out a season-high 42 rebounds to hand the Patriots their first loss in over a month 73-64.
JeQuan Lewis had the game spotlight on him with 26 points (3-11 from 3pt range) for VCU (11-4, 1-0). His quick movement on the perimeter, doubled with his ability to drive down for a mid-range jumper, made him too much to handle for the Patriots.
Mid-range jumpers, the mantra of George Mason (10-4, 0-1).
Attempting to play with the Rams havoc style of defense, the Patriots were playing with fire. Mason swarmed the ball and the post, initially stunted the offense of the Rams. The physical bodies of VCU however gave their offense 16 offensive boards, nine in the second half.
Turning the tables, VCU forced 17 turnovers, and kept Marquise Moore (10 points, six rebounds) from getting started.
The paint was dominated by the Rams, 46-32. The first four minutes saw Mason's key post player, Jalen Jenkins get into foul trouble with two quick whistles. Throughout the game Jenkins, 12 points, found his mid-range jumper, shooting over the All-Conference selection Mo Allie-Cox. His minutes though were limited to 21 because of the foul trouble.
Filling in for Jenkins, Daniel Relvao and Troy Temara were able to hold Allie-Cox in the paint to only 14 points and nine boards. They combined though for two points and three rebounds in 18 minutes, while Jenkins lead the team in points and had four boards.
Behind a home crowd that George Mason (10-4, 0-1) has not seen in years, Mason was able to combat a 13-0 VCU early run and make it 36-35 at half.
VCU though was able to shut down the double-double machine in Moore, who came in with eight double-doubles. They found out the only way to cover Moore was with a quick guard on the outside and an agile big in the paint: Lewis and Allie-Cox.
As a return, he was held to one rebound in the second half, also nursing a groin injury.
Despite a disappointing loss, Mason proved that their non-conference play was not a fluke. Keeping their intensity up, Mason will aim to become a huge threat in Atlantic 10 play.
"Those guys in the locker room might be encouraged, but I think they're also pissed, and that's a good thing," head coach Dave Paulsen said. "They think they should have won that game and that's exactly the mindset we wanted to have."
Next up for Mason is Massachusetts (10-4, 0-1) on Wednesday.