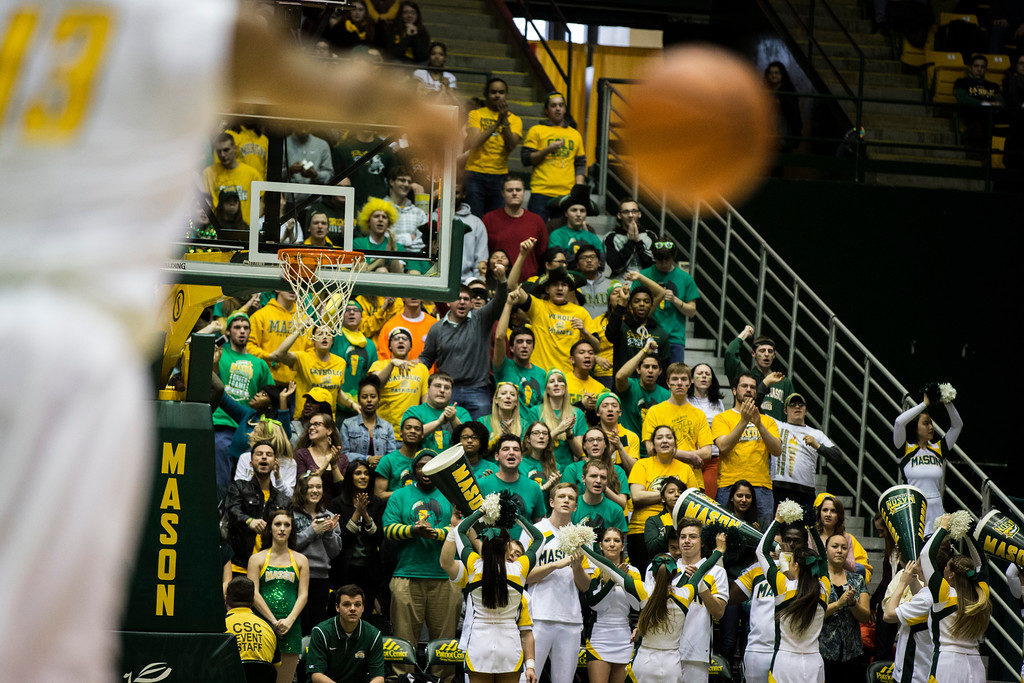 Photo by Craig Bisacre/Creative Services/George Mason University
The 2015-2016 NCAA Basketball attendance numbers are out and Mason did pretty well all things considered. Last year, we evaluated the numbers and saw a 17% drop from the 2013-2014 season, but this year things are looking up.
George Mason basketball's overall total attendance in 15 games, the same number of games as last year, increased by 5.3% from 61,237 to 64,506. This brought our average attendance up from 4,082 to 4,300 per game.
Mason is on the positive side of the A-10 when it comes to average attendance numbers — seeing an overall increase in attendance. Seeing the new talent coming in this year and the schedule that is being put together for the 2016-2017 season, these numbers should continue to go up.
| School | 2015 Average | 2016 Average | % Change |
| --- | --- | --- | --- |
| U Mass | 4553 | 3365 | -26.1% |
| Duquesne | 2270 | 1832 | -19.3% |
| Rhode Island | 5404 | 4717 | -12.7% |
| Davidson | 4676 | 4297 | -8.1% |
| GW | 3397 | 3127 | -7.9% |
| Saint Louis | 7032 | 6757 | -3.9% |
| VCU | 7638 | 7637 | -0.0001% |
| Dayton | 12718 | 12941 | +1.7% |
| Saint Joes | 3779 | 3921 | +3.7% |
| St. Bonaventure | 3889 | 4040 | +3.9% |
| George Mason | 4082 | 4300 | +5.3% |
| Fordham | 1874 | 2140 | +14.2% |
| Richmond | 5599 | 6435 | +14.9% |
| La Salle | 2158 | 2492 | +15.5% |
| | | | |