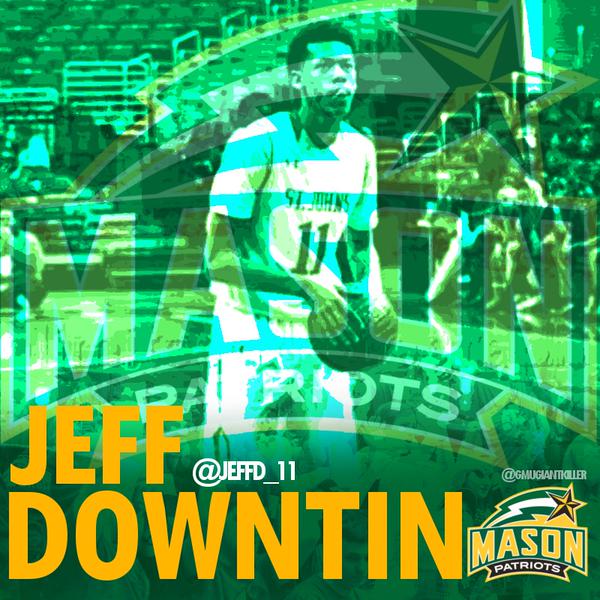 Just three days after taking the position, Dave Paulsen sent his first offer as head coach of George Mason basketball to Jeff Dowtin on April 2nd, 2015.
HIGHLIGHT VIDEO BELOW
Jeff is a local player from just up the road in DC, where he plays for St. John's College High School — where George Mason basketball alum, Lamar Butler, works as an assistant coach. As part of the UAA, DC Blue Devils, backcourt where he played alongside, now Washington commit, Markelle Fultz, Jeff has attracted offers from schools like Wichita State, Rutgers, UCF, Rice and many others. George Mason was his first offer this year, receiving three DI offers in 2014.
Dowtin has already visited Wichita State back in August and didn't commit, leaving his options open. This Friday, September 11th, 2015, Jeff will visit George Mason. In an interview with Hoopseen, Jeff indicated that what's important to him is a great staff and a place where he can participate and get some playing time which are things George Mason can definitely offer him with mostly upperclassmen on the team this year, the freshmen and sophomore class will have to step up next season (when Jeff Dowtin will start his collegiate career). The players at Mason seem very close as well; the freshmen have Mason Core classes (University-wide gen-eds) together, live together and often spend time outside of school together and with older players as well — developing great chemistry off the court that will translate well come practice and game day. Jeff explained that he wanted to be in a family-like environment stating that he doesn't want to be like the "..hundreds of transfers" so having a team that has chemistry will definitely be a plus for him.
"I want to go to a school where I can play and not sit for two years, a place with a family-like environment, and somewhere the coaching staff and I have a close relationship." – Jeff Dowtin
Jeff will visit a school that is committed to athletics and academics as well. Although a young institution, George Mason has grown into a world-recognized research university in just a short 43 years after breaking away from the University of Virginia in 1972. In addition to our famous Final Four run in 2006, George Mason has won 2 national championships (Women's Soccer, Men's Track & Field) and 27 individual national championships in it's roughly 37 years as a Division I school with many more to come.
Currently, Dowtin plans to visit Rhode Island on September 24.
Jeff Dowtin Twitter: @JeffD_11
HIGHLIGHT VIDEO: