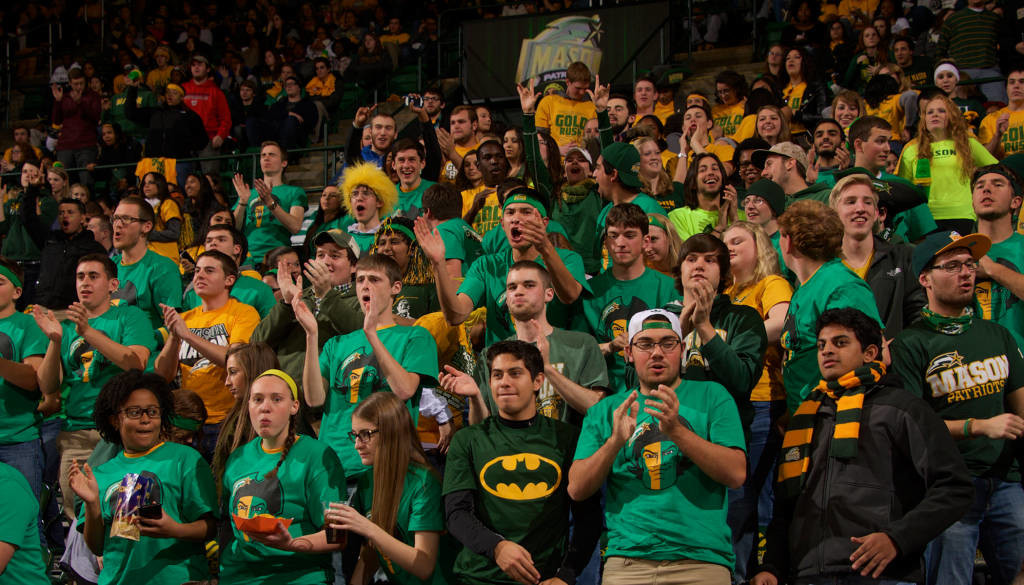 We took a look at recently released NCAA attendance numbers for Division-I Men's Basketball (2014-2015 season) and compared them to last year's (2013-2014) numbers. The figure for Mason doesn't really surprise us but, it does give us something to strive for — FILL THE PATRIOT CENTER (EagleBank Arena).
ALUMNI & FANS: GET YOUR SEASON TICKETS
Within the A-10, Mason wasn't the only one with large drop in attendance. Saint Louis, although still ranked in the Top 100 in the country, saw a drop in attendance of 20%, tied with Fordham. VCew also saw a drop but, much smaller at just -1.3%.
STUDENTS: SIGN UP FOR THE PATRIOT PLATOON
Virginia Tech is a good example of what a new coach can do for attendance. The Chokies have a similarly sized arena, Cassell Coliseum, to Mason's Patriot Center (EagleBank Arena) at 10,000. They saw a jump in Blacksburg of 19% and kept their position in the top 100. It also helps that they play ACC teams every year — people come out when you play ranked opponents. If we see positive numbers this season, it's a win for Mason.
Local teams UMD, GW and scared-to-play-non-power-five-locals Georgetown all saw increases in attendance this year. Below are a few schools within the A-10, Virginia and the DMV area.
Additional Sources: 2013-2014 NCAA Attendance Data
| School | Total Attendance (2014-2015) | Games | Avg | Change From Last Season (Δ Avg) |
| --- | --- | --- | --- | --- |
| George Mason | 61,237 | 15 | 4,082 | -17% |
| George Washington | 47,563 | 14 | 3,397 | +4% |
| #61 VCU (aka VCew) | 122,202 | 16 | 7,638 | -1.3% |
| #45 Georgetown | 154,076 | 16 | 9,630 | +11% |
| #23 UVA | 218,493 | 16 | 13,656 | +17% |
| #93 Virginia Tech | 103,401 | 18 | 5 ,744 | +19% |
| JMU | 64,907 | 19 | 3,416 | -5.4% |
| #69 Old Dominion | 140,072 | 20 | 7,004 | +21% |
| Longwood | 16,609 | 13 | 1,278 | +8.0% |
| #24 Dayton | 216,203 | 17 | 12,718 | +3.3% |
| Fordham | 29,976 | 16 | 1,874 | -20% |
| #96 Richmond | 111,983 | 20 | 5,599 | -8.2 |
| Radford | 29,309 | 15 | 1 ,954 | +24% |
| #99 Rhode Island | 86,461 | 16 | 5,404 | +22% |
| #25 Maryland | 241,197 | 19 | 12,695 | +1.1% |
| #68 Saint Louis | 126,576 | 18 | 7,032 |  -20% |