Multiple games with multiple gifs in the breakdown for the first time this week! I'm going to jump around between games and try to stay coherent so buckle up.
The story of the Fordham game, in the first half anyway, was that the team did a great job of taking advantage of Fordham's gimmicky trap-heavy defense. Fordham leads the A10 in steals, but that doesn't mean they're good defensively. They gamble hard, trapping and sometimes even triple-teaming in an attempt to force turnovers. This can be effective under the right circumstances, but when it doesn't work it looks really ugly.
Here on the first bucket of the game, Marquise turns the corner and is chased by two defenders into the paint. A third defender tries to slide in for the charge, while the other two reach in to try to help. Freeze the gif while Marquise is in the paint and you'll see he literally has all five defenders within arms' reach. He dishes to a cutting Jaire for an easy basket: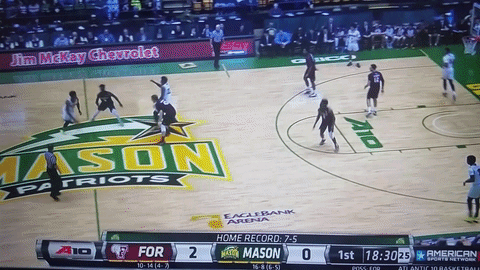 On the next play Otis spins away from the pressure. 32 on Fordham takes a step toward him to trap, but then backs off. He doesn't realize that Marquise is cutting toward a wide open lane, and he's already been beaten badly. Sengfelder (#43 on Fordham) is late with the help, giving Marquise the and-one layup.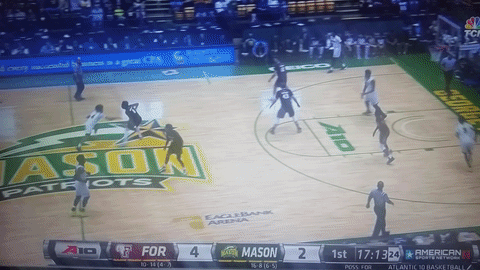 On this play, Marquise catches a piece of the paint and dishes to Otis. Otis heads into the lane, drawing the post help away from Jaire and leaving no defenders on the weakside. Otis dishes to Jaire for a nice assist and an easy layup.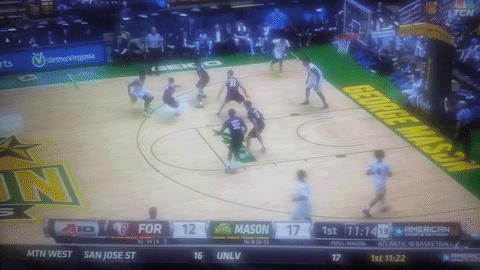 Here's yet another extreme example of Fordham's defensive style. Jaire gets the ball in the corner and gives it to Jalen to avoid the trap. Jalen is then triple-teamed. Fordham has four defenders on the strong side between the arc and the paint when Jalen has the ball. Jalen finds Marquise at the top of the key, who swings to Kier for a wide-open three.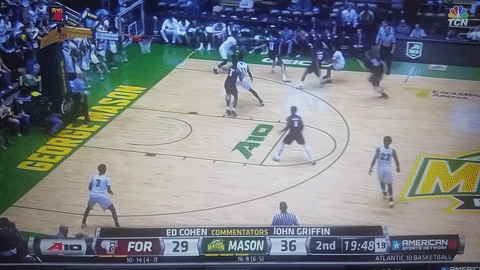 Even by Fordham's standards this looks like a broken defensive play. Three defenders are above the arc, in an apparent attempt to trap the ballscreen Jalen is trying to set, and the other two defenders are occupied on the wings. Marquise goes left opposite the ballscreen, burns his defender, and finds little resistance on his way to the rim.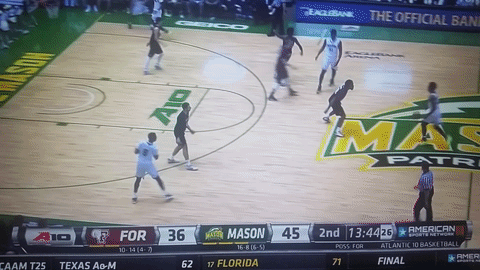 Fordham mixed it up a little in the second half and had a lot more success with trapping and forcing turnovers. They also went zone for a few possessions, which didn't work out well for them. Here they're in a 2-3 zone. The spacing on the wings is poor and leaves a big hole for Marquise. Marquise charges to the rim, and Sengfelder, who is not a rim protector, is powerless to do anything to stop him.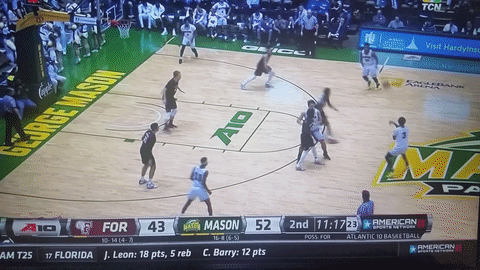 The biggest story of the week for those wondering about the future of Mason basketball was Karmari Newman. He was an animal against Richmond, and a few plays demonstrate why I think he has the highest ceiling of any of the first year players. Here he uses a shot fake to get his defender up in the air, blows past him, then pulls up for a long two. Everything about this play is silky smooth.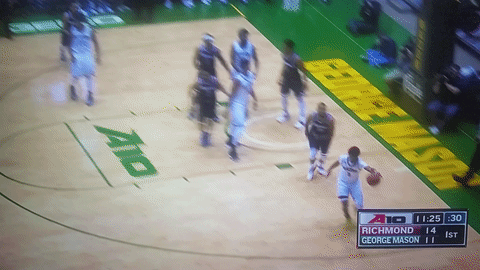 Now here's a reverse angle of a spinning drive he had. He catches a pass from Jalen at the top of the key, spins away from the help defender, and gets raked across the arm to go to the line. Karmari's shooting is one thing, but his ability to get to the rim opens up a whole other dimension for his game. Guards who can shoot are a dime a dozen in college basketball; guards who can score at the rim are worth their weight in gold. He's still seeing limited minutes, but he makes one or two of these drives each game.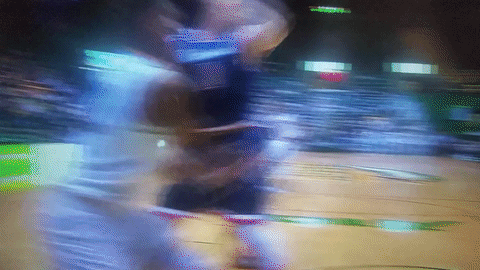 Once again, Jalen's post play was pivotal in beating Richmond. They sent a few screaming doubles at him and he made them pay each time. Here, the weakside post defender abandons the wing to double Jalen. Jalen gets a hockey assist for hitting Marquise, who swings it to a wide open Jaire in the corner: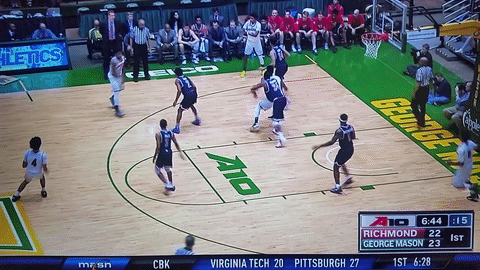 On this early possession he's patient enough to realize that Richmond's rotation is busted and no one is marking Karmari. He skips this pass to Mason's sharpshooter for another open three: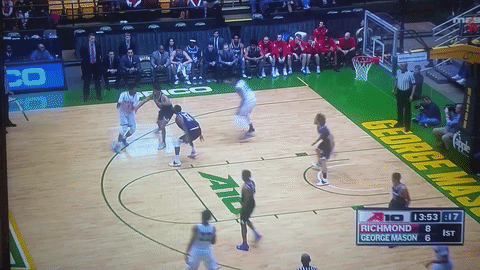 "Jalen's torture chamber" might become a weekly entry. This week, Jalen welcomed Cline to the Thunderdome once again. Here Richmond leaves Cline, a very poor defender, isolated on Jalen. Jalen takes him to the woodshed and draws Cline's fourth foul while he's at it: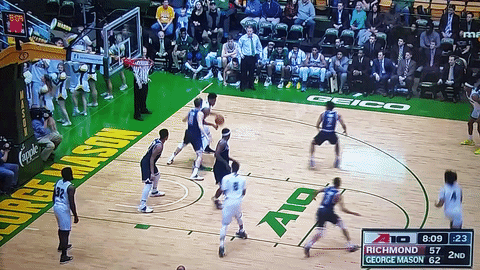 "Otis's impossible layup" is another contender for a weekly entry. Feels like he does this once or twice a game. How does he even get this shot off, much less in?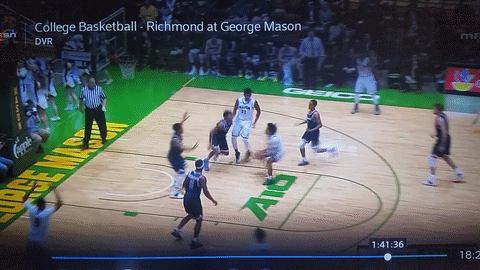 Now let's check in on the other freshmen. Troy was a mixed bag this week. He got flustered against a Fordham triple team and turned it over here: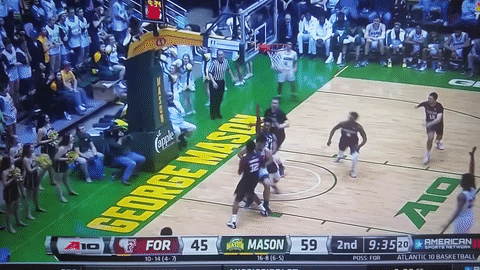 But then he caught a nice pass from Marquise, pivoted, reversed, and scored. We don't need Troy to be anything special on offense at this point, but it's a tremendous help if he can avoid turnovers and convert the easy opportunities our guards are going to generate for him.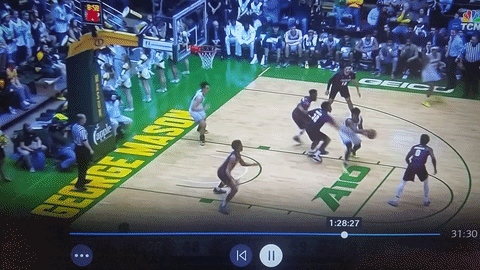 Ian Boyd has been quiet since coming back from his suspension (6 points, 2-7 shooting against Richmond and Rhode Island), but he's still doing a lot of things you love to see out of him. Here he is boxing ShawnDre' Jones into oblivion. He gets the rebound and misses the layup, probably because there should have been a foul called, but Temara's there to clean up the mess: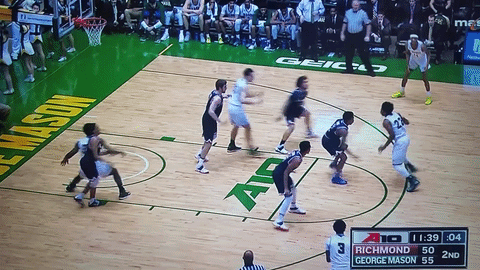 Another weekly entry idea: Your Justin Kier moment of zen. There's always plenty of material. This week: Kier is sneaky awesome at leading the fast break. Here are two plays where he sets up his teammates with beautiful passes. The pass to Otis was particularly great – he had almost no angle to thread this past Buckingham. Mason got to the line on both of these: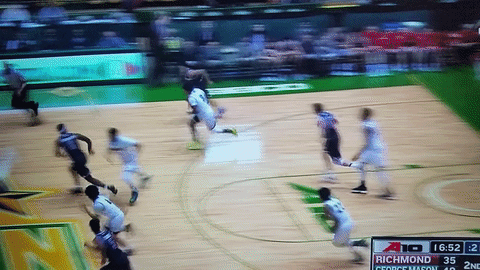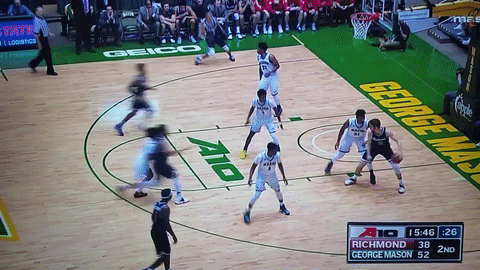 Let's wrap this up with a couple more Marquise plays worth highlighting: first, his pass off the backboard to Jalen. Marquise recognizes he doesn't have much of an angle for a shot himself, but he sees Jalen in prime offensive rebound position, so he chucks it off the backboard. This was awesome: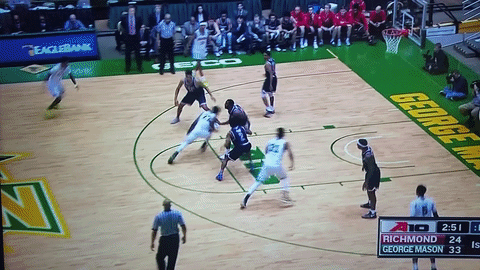 Here Marquise hits an absurd shot at the end of the half off a nifty drive. Three Richmond defenders try to stop him but they're all powerless. This play is a good illustration of what really sets Marquise apart – his tremendous ability to create separation out of nothing and finish in traffic defines his game.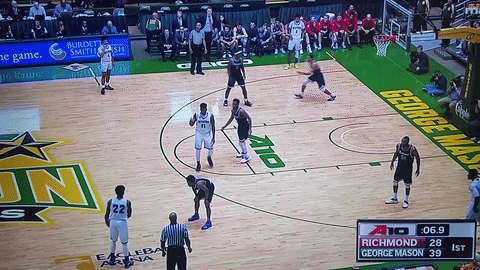 Now you've probably noticed there are no gifs from the Rhode Island game. That's because these take time and when I have to choose, I'd rather gif the wins than the losses. I will say that at halftime, I thought Rhode Island was the physically superior team, and that with Hassan Martin coming back (he sat most of the first half with two fouls) we were going to get blown out on our home court. I'm rarely so happy to be wrong. I can't remember the last time that I felt better about a team after a loss, but that's how I came away from the Rhode Island game. Rhode Island had a tremendous size advantage all over the court. They start 6'7" Hassan Martin and 6'9" Kuran Iverson, whom Jaire had to guard, and a 6'7" and 6'8" player both got big minutes off the bench. Otis was guarded by the lanky 6'3" Jeff Dowtin, and Dowtin's length on defense was a big part of Otis's off night. I didn't see any reason to think we'd be able to close the gap, but the team showed tremendous poise to come all the way back from down 18 in the second half. They didn't finish the job, but they showed us that they're tough as nails and they can scrap with anyone.
That's it for this week. The breakdown will be taking a week off next week for a snowboarding trip. Until then – go Mason!