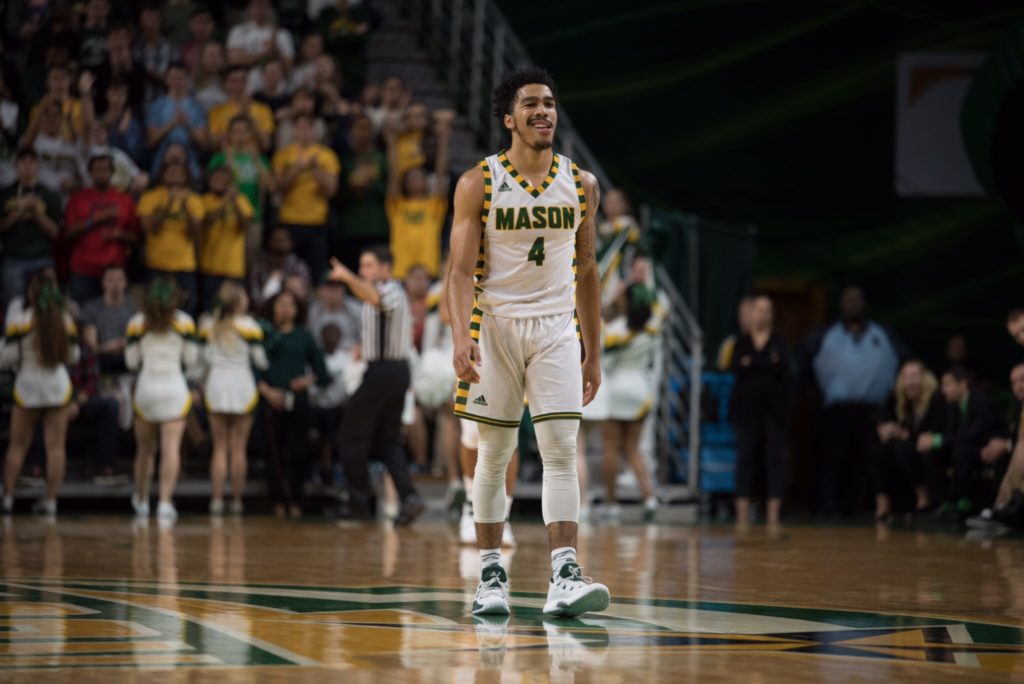 Welcome back to the George Mason Men's Basketball weekly rundown! This one won't be nearly as upbeat as last week's since we're staring our own mortality in the face (or the limitations of our favorite college basketball team, same thing) for the first time after two ugly losses. Let's get to it.
The bad:
Three-point defense
It was bad last week and it got worse this week. Louisiana Tech shot 11-24 and Fresno State shot 8-22 from distance. Combined, that's 41.3%. Mason is now allowing opponents to shoot 37.8% from three on the year, 276th in the entire NCAA. Mason hasn't held a single opponent under 30% (Binghamton, at 6-20, was exactly 30%) and the numbers aren't lying here – opponents are getting open looks pretty easily. Mason's pack-line defensive scheme requires guards to collapse to cut off dribble penetration. The size deficit they face in every game requires them to collapse a little harder and a little more often than is optimal. The result is a lot of open threes for the opponent, and opponents are taking advantage.
Points in the paint
Theoretically the pack-line defense should limit points in the paint, but with Mason's size deficit they aren't winning there, either. In fact, when you add together points in the paint and points from 3, Mason got beaten pretty badly in both categories this week after holding their own against lesser competition:
| | | | |
| --- | --- | --- | --- |
| Team | Points in paint | Points from 3 | Total |
| Lafayette | 26 | 33 | 59 |
| Mason | 32 | 21 | 53 |
| | | | |
| Louisville | 24 | 24 | 48 |
| Mason | 16 | 24 | 40 |
| | | | |
| Binghamton | 24 | 18 | 42 |
| Mason | 24 | 27 | 51 |
| | | | |
| CSUN | 34 | 21 | 55 |
| Mason | 26 | 27 | 53 |
| | | | |
| Louisiana Tech | 18 | 33 | 51 |
| Mason | 24 | 12 | 36 |
| | | | |
| Fresno State | 40 | 24 | 64 |
| Mason | 30 | 21 | 51 |
Louisiana Tech didn't need to go inside a whole lot because the threes were always there. Fresno State beat Mason soundly in the paint and still had an advantage beyond the arc. When you're getting beaten in the paint and at the three-point line, the only places to make up the deficit are at the free-throw line and with mid-range jumpers. This worked against Lafayette and CSUN, but this week showed us it's unlikely to hold against better opponents. The mid-range two point jumper is recognized as the least valuable shot in basketball – it's less likely to go in than a shot in the paint and it's worth less than stepping outside the arc – so it's troubling that Mason needs to leverage it so badly. Either the interior defense or the perimeter defense, and preferably both, need to improve if Mason is going to compete in the A10.
Opponent turnovers
Of course, there's a third option. If you're lacking in size and have trouble defending both the post and the perimeter, you can try to limit the number of shots your opponent gets to take by generating turnovers. Mason isn't pursuing that strategy either, forcing only 12 turnovers against Louisiana Tech and a measly 8 against Fresno State. In fact, Mason is turning the opponent over on only 16.3% of possessions this season, 224th in the NCAA. Even this number is high for a Dave Paulsen-coached team, as he hasn't had a team finish the season with a higher rate in eight years.
Generating turnovers has never been part of Dave Paulsen's philosophy, but it would be useful now. George Mason successfully played a conventional, straight-up defense last year and got away with it despite a similar size deficit. There were a variety of factors that allowed that to happen – Jalen Jenkins taking a senior leap and Marquise Moore morphing into the A10 version of Russell Westbrook chief among them – but that team kept opponents off the boards. This year's team isn't doing that yet and doesn't figure to unless Greg Calixte or AJ Wilson become consistent contributors. I'd like to see Dave throw in some wrinkles, like a halfcourt trap, blitz the ballhandler, or something that's designed to cause a turnover, but I'm not holding my breath. It's tough to see how this team gets consistent stops without them.
I've said my piece on the defense for now. On to other stuff.
The first half
According to kenpom.com Mason's win expectancy was well under 40% for the entirety of both games. Mason was down 42-24 at the half to Louisiana Tech and 43-29 to Fresno State, allowing a combined 54.4% shooting in the first half and shooting 28.3% themselves. The team battled back admirably in both games but those deficits are unrealistic against good competition.
Javon Greene only shooting threes
Javon is a bucket-getter – watch his explosion as a high-schooler in a Thanksgiving tournament last year to get an idea for the sort of all-around scorer he is – but for some reason he's shooting primarily from three. He's 1-4 from inside the arc and 0-14 from behind it to start the season. I'd like to see him put his head down and get to the rim, over and over again for as long as it takes, until he gets into a rhythm. The longball will follow after he's established himself as a threat to get to the rim.
It's not all doom and gloom. Let's talk about some good stuff:
Goanar (still)
Goanar is 20-30 from inside the arc over his past four games, including 8-13 in Cancun. He was 1-6 from 3 but added 11 points on 11-11 shooting from the free throw line. In addition to being George Mason's highest scorer at 15.2 points per game, he's also the most efficient, averaging 1.65 points per shot:
| | |
| --- | --- |
| Player | Points per shot |
| Goanar Mar | 1.65 |
| Justin Kier | 1.36 |
| Otis Livingston II | 1.32 |
| Ian Boyd | 1.13 |
| Jaire Grayer | 1.11 |
| A.J. Wilson | 1.09 |
| Greg Calixte | 1.00 |
| Javon Greene | 0.27 |
He'll have some off games, and we may see defenses key on him more going forward, but his ability to step into a lead scorer role and do it so efficiently speaks volumes about his potential.
Solid minutes from Greg Calixte
This feels weird to say since I'm a box score fiend, but Calixte looks like he's a lot more comfortable out there. I was shocked to see that he didn't get a rebound in 11 minutes against Fresno State. His defense looked solid, and he's got the tools to be the big in a pack-line scheme with quick feet, long arms, solid positioning, and general court awareness. The sooner he gets up to speed and starts playing a bigger chunk of minutes, the sooner my earlier bellyaching becomes irrelevant. (More irrelevant? Irrelevanter?)
Ian Boyd's rebounding
In addition to scoring, Boyd also grabbed more rebounds (16) than any Patriot in Cancun except Jaire (17). George Mason will continue running a power-forward by committee approach until Calixte or Wilson can play more overlapping minutes with Mar, and Boyd's ability to grab rebounds in traffic will be important.
Otis getting to the line
Lost in the sting of the two Cancun losses is the fact that Otis scored pretty well. He had 33 points on 18 shots with 6 assists, 4 rebounds, and a steal. He was 13-15 from the free-throw line, which is a welcome development. He had only six free throw attempts in the first four games combined. This team needs Otis to continue getting to the line – Mason was 9-2 last year when he attempted 6 or more free throws.
I'll see you back here next week. Until then, go Mason!