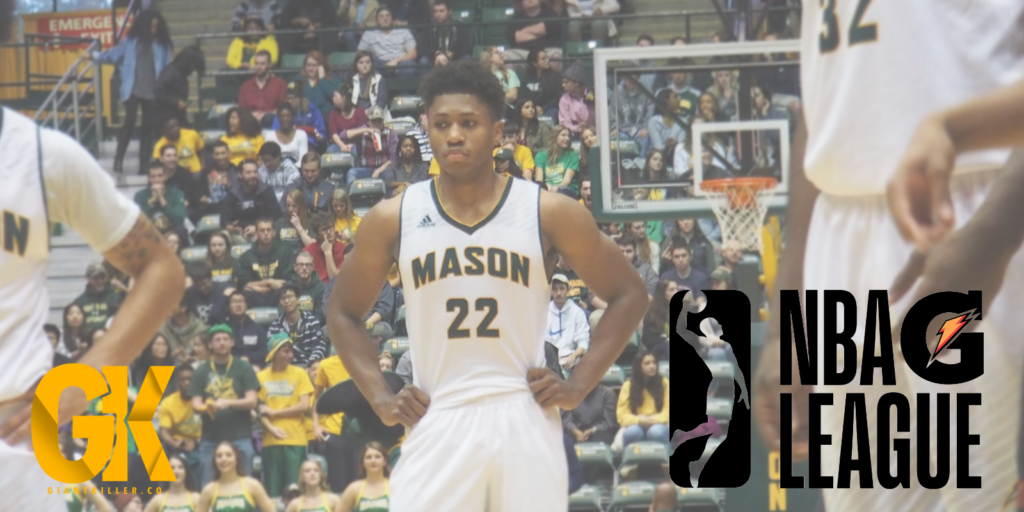 An incredible senior season propelled Marquise Moore to a potential career in professional basketball. Many George Mason fans, and even Moore himself, thought that the 6'2″ guard had done enough to make an impression on NBA coaches. An untimely injury though created a huge setback as an NBA prospect, leaving much of his immediate future unknown.
Even before his graduation, Moore and his agent had some contact with coaches and scouts in the NBA. In addition to the Houston Rockets and Philadelphia 76ers, Moore had some interest from the Chicago Bulls. During May he ended up going down with an ankle injury and unfortunately the conversations with Chicago dissolved. To make matters worse, his ankle injury were right when NBA workouts were scheduled to start.
"Playing in an open gym, I got hurt, tweaked my ankle," Moore said. "That really hurt [my chances], couldn't workout all of May, really couldn't go in the gym either."
From there the George Mason graduate was able to workout with the Rockets and 76ers. From a prospect standpoint, Houston might not have been the best outlook for Moore. The Rockets, with Mike D'Antoni as head coach, run a system that is heavy on making jump shot opportunities and driving to the rim. Only having one trait would not be enough for that system and many Mason fans know the history and development of Moore's jump shot.
"Rather than focusing on things that Marquise doesn't do great, you got a couple things he does at the elite level and I would believe would translate," George Mason head coach Dave Paulsen said. "The one stat that all NBA personnel says translates more than any other stat is rebounding and he was the best rebounding guard in America, and he led the country in double-doubles."
Houston's top player, James Harden is able to draw contact and is the best in the NBA at getting to the line. Matching Moore to Harden would not be a far comparison if looking at skill set, but it seems like Moore does play more defense while Harden has a purer stroke.
"Houston I did okay. I did better in the live action than in drills. They said they liked me, they said I pretty looked good just coming off an ankle injury. I still had my quickness and all of the things I do well. In Philly I played really well in that one. I guess I just have to get adjusted to the NBA workouts," Moore said.
Philadelphia is a tough team to decipher on what their identity will look once they have Joel Embiid, Ben Simmons, and Markelle Fultz together. What the double-double phenom had going for him is his physicality and raw talent. Only problem is that Philadelphia has 12 guys on their 17-man roster that are 25-years or younger, plenty of raw talent. They need veterans not more youth.
Alas, summer league came and went without Moore getting called up. Although it does not end chances of suiting up for the NBA, the Queens native chances do not look strong this off-season. There are two primary options right now for Moore: fight for a G-league spot against other prospects that have impressed with NBA teams in the summer or find stability overseas.
"I'm definitely weighing my options right now. My ultimate goal is to play in the NBA but if I get an opportunity I will take it," Moore said.
For now Moore and his agent still are hinging hopes for his domestic options. Moore will be playing at the G-league Player Invitational on August 13 in Chicago. Here, Moore will be one of 50 players vying for 25-40 spots that will receive a contract from the league. These players will then be eligible to be drafted by the G-league in October.
Last season, former teammate Shevon Thompson was drafted in the second round of the then D-league draft. He went on to play with the Erie Bayhawks and is anticipated to stay with the team for another season.
Still earning a contract does not guarantee a player will be drafted and if one does not receive a contract there is always the local tryouts from each G-League team.
"I'm willing to play in any role that gets me on the floor," Moore said. "Its all about winning for me, it doesn't matter my role."
Editor's Note: An earlier version of this story said "220 players vying for 25-40 spots." The story has been updated to say 50.