George Mason's season is over but preparation for the 2017-2018 season is in full swing.
Coach Paulsen and his staff have hit the recruiting trail, not just for more 2019 or 2020 recruits, but to find more Patriots for the 2017 class. AJ Wilson, redshirted freshman, Goanar Mar, and Javon Greene will start playing this November and form the current class of 2021.
This week, George Mason extended offers to two 2017 recruits; Greg Calixte and Akiean Frederick — both Power Forwards.
GREG CALIXTE | 6-9 PF | Mount Vernon HS (NY)
Greg Calixte is currently a senior at Mount Vernon High School, the same high school former Mason Patriot Sherrod Wright attended. At 6'9" 230lbs, Greg is similar in size to Troy Temara when he first came to Mason and would be a good addition to the Patriots with Jalen Jenkins graduating. He comes from a winning program, a trait Paulsen and his staff look for in building our own winning culture at George Mason, and played four years of varsity HS basketball. His size allows for his ability to score and block in the low post, which Greg says is his best asset as a player. His aggressiveness to defend, block and get steals would be great asset for the Patriots especially once he adapts to college play and learns to stay out of foul trouble — a delicate balance that can help win games. Greg Calixte, like George Mason Patriot Goanar Mar (Minnesota), is a Mr Basketball finalist for his state of New York. He is expected to commit whenever his basketball season ends. Mt Vernon (NY) is in the State Championship semifinals so an announcement may come as soon as next week for Calixte. When asked about what he is looking for in a college, he simply wants whatever is the best fit for him. He has a good set of mid majors to choose from including St Bonaventure, UAB, Toledo, UNCW as well as Big East DePaul where he has taken an official visit to. Quinnipiac was also in the mix with an official visit, but with the recent firing there it probably is no longer on his list.
GIF: Greg Calixte playing aggressive Defense[FULL VIDEO: #33 in White]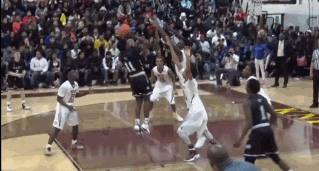 AKIEAN FREDERICK | 6-9 PF | SINCLAIR CC (JUCO)
Akiean Frederick could be Coach Paulsen's first JUCO transfer at George Mason. Currently a Redshirt Sophomore at Sinclair Community College, Akiean has become somewhat of a highly sought after recruit in recent weeks amongst mid-majors. Last season he averaged 14 points and 7 rebounds per game, but this season he's improved to averaging a double double on the season at 22 points and 11 rebounds per game. Sound familiar? Late last year 'low major' schools began sending offers and as of today, he is holding eight division one offers including Marshall, George Mason, Loyola (Chicago), Kent State and UT Martin. Given his skill level, I would say Marshall, Kent State, UT Martin and George Mason are his most probable choices unless more offers keep pouring in (which most likely will happen). His ability to hit a mid-range jumper, score in the paint and his high basketball IQ given his experience makes him a steal for whichever school he decides to continue his basketball career at. I can imagine this is why he calls himself a Point Forward. He only has two years of eligibility left, but could definitely be an asset for the Patriots if he were to commit.
Video: Akiean Frederick scores 41 points in a game
Now, the question you may be asking yourself, aren't we maxed out on scholarships? From what we know with the incoming class and current NCAA rules, we are at the maximum of 13 scholarships; 10 returning players, AJ Wilson and incoming freshmen Goanar Mar and Javon Green. We do not know of any possible transfers, at this point everything is speculation.