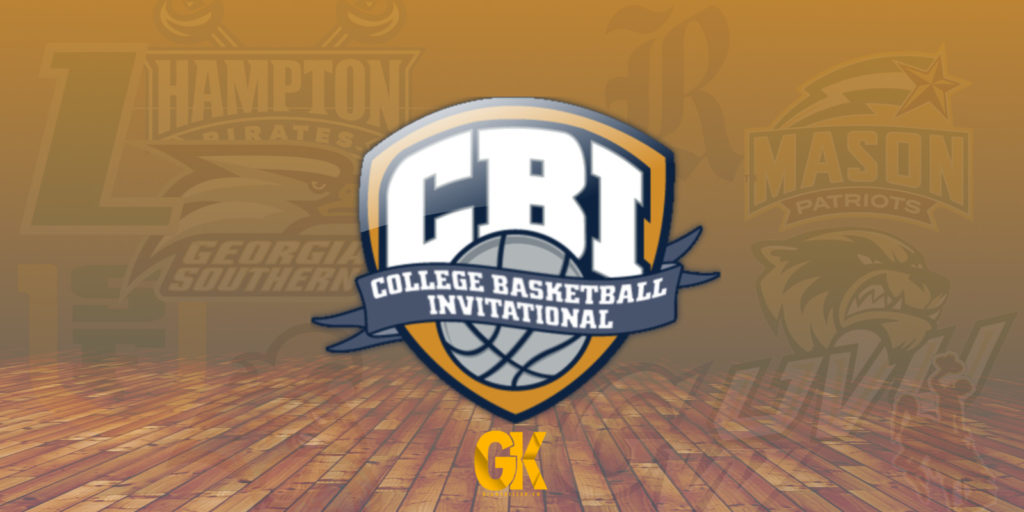 George Mason makes their return to the CBI after their holdout for a NIT bid was unsuccessful. Joining them from the Atlantic 10 is George Washington, one of three teams Mason went 0-2 to this season.
Filling out the rest of the 16 team field are a mixture of mid-majors and single bid conference teams. In terms of each region, George Mason lucked out. Every team in Mason's Region is below .500 on the season. On paper it should be a cakewalk for the Patriots.
ENTER THE GIANTKILLER NCAA TOURNAMENT CHALLENGE
For this analysis piece, each section of the bracket has been divided up based on the home team with the best record. This is because they should emerge as the favorites in the section due to how the schedule played out. After each region is played out for a semifinalist slot, the four teams are reseeded into their own bracket.
All First Round games will be on March 15 with the exception of Stony Brook at UIC on March 16.
George Mason Region:
Loyola (MD) (15-16, 8-10 Patriot) at George Mason (20-13, 9-9 A10) 7:00 PM
There are a lot of things to point to in this matchup. Offenses have been successful in the paint against the Greyhounds (shooting 53 percent inside the arc). For George Mason that is how they operate and will be key for Marquise Moore, Jalen Jenkins, and Jaire Grayer. Loyola has a talented 6'8″ forward Cam Gregory that will lead to a mismatch for him or senior Jarred Jones. See more of this in Wednesday's preview.
Pick: George Mason
Hampton (14-16, 11-5 MEAC) at Coastal Carolina (16-17, 10-8 Sun Belt) 7:00 PM
Appears to be a close matched contest. Coastal Carolina shoots better but turns the ball over more. Both teams rebound well and spread out the scoring. For the Chanticleers, junior Jaylen Shaw is one of the best 3pt shooters in the country and will be the difference maker in this game.
Pick: Coastal Carolina
George Washington Region:
Stony Brook (18-13, 12-4 America East) at UIC (15-18, 7-11 Horizon)* 9:00 PM
The America East was an undervalued single bid conference and Stony Book was one of the teams helping carry the banner. Throughout the season, the Seawolves played some closely contested games against Power 5 schools and are well tested with an efficient offense. UCI meanwhile averages 16 turnovers a game.
Pick: Stony Brook
Toledo (17-16, 9-9 MAC) at George Washington (19-14, 10-8 A10) 7:00 PM
It will not come easy for the Colonials but this region will be pretty straightforward for George Washington. As with their entire season, it will be a case of which teams matchup up well with the transient offense of George Washington. Toledo appears to be the best chance to knock them off but I do not see them slowling down Tyler Cavanaugh and the rest of the Colonials.
Pick: George Washington
Wyoming Region:
Eastern Washington (22-11, 13-5 Big Sky) at Wyoming (18-14, 8-10 MWC) 9:00 PM
Best First Round matchup of the tournament, both teams honestly should have been contenders for an NIT bid. The Eagles have two 20 point scorers that are tough to stop, Bogdan Bliznyuk and Jacob Wiley. Wyoming is not shy of scoring either with four players, two of them bench players, averaging double digits on the score sheet. Potential for a high scoring game as both teams are not the best defensively.
Pick: Eastern Washington
Green Bay (18-13, 12-6 Horizon) at UMKC (17-16, 8-6 WAC) 8:00 PM
With this as the second matchup in the region, clearly this is the best section of the bracket. Green Bay is high scoring and just finds ways to win in close contests always making the big shot. Led by LaVell Boyd, the Kanagroos are no slouch despite their record. Boyd shoots 40 percent from behind the arc and dishes out nearly four assists each night while scoring 18 points.
Pick: Green Bay
Rice Region
San Francisco (20-12, 10-8 WCC) at Rice (22-11, 11-7 C-USA) 8:00 PM
A respectable season for the Dons who faced two of the best mid-majors in college basketball twice this season, Gonzaga and Saint Mary's. By far they are more tested than the Owls and have a strong defense that prevents easy shots. The Dons are athletic and spread out the court for over 11 assists a night and have balanced scoring. Rice though has a high powered offense and Egor Koulechov could shoot the lights out for the Owls.
Pick: San Francisco
Utah Valley (15-16, 6-8 WAC) at Georgia Southern (18-14, 11-7 Sun Belt) 7:00 PM
A another team carried by an extremely talent high volume shooter is Georgia Southern. Ike Smith is shooting 51 percent from the field and 42 percent from behind the arc. His supporting cast is fantastic as well with Tookie Brown (17.4 ppg) and Mike Hughes (10.7). However, they do not rebound and do not force turnovers. Multiple players can score for Utah Valley but the Eagles will be too much.
Pick: Georgia Southern
From here my pick for the semifinals are George Mason, George Washington, Eastern Washington, and Georgia Southern. Expecting that the tournament will not have Mason and GW face each other in the semifinals, that may be primed to be the favorite for the championship. If there was a team to stop the Patriots or the Colonials though, it would be Eastern Washington.