Three seasons ago, Marquise Moore was the small guard, with an awkward jump-shot, on a fairly individually talented George Mason roster.
Today he is Mason's go-to scorer and rebounder, making national headlines, and is on the verge of making history at the guard position. With Moore at the helm, he has been at the center of Mason's transformation to an Atlantic 10 contender.
Averaging a double-double a night, 17.6 points, 10.5 rebounds, Moore has become the leader of a team battling in the top half of the Atlantic 10. The squad has won their most games in the conference ever (18-10, 8-7) and will finish with a winning record for the first time since the 2012-13 season.
It has been well documented of Moore's accolades this season. The 6'2″ senior guard has garnered attention by both the Washington Post, and Bleacher Report. Essentially, he has made Mason relevant again for the first time since 2011 (of course with all due respect to head coach Dave Paulsen and the work he has done).
When Moore first emerged on the team as a freshman there was one aspect of his game that was instantly noticeable, not his aggressiveness or knack for making the right decision, it was his jump shot.
On the court starting as a third guard beside Sherrod Wright and Byron Allen, two of the best court commanders in recent Mason history, Moore's main priority was to keep himself open as an option for his teammates. There was little of Moore setting up shots for himself, or rotating around the arc like the supporting guards do now. Shooting a modest 40 percent from the field as a freshman, in a lineup that relied on a post and pop style of play, was more than admirable considering his game now. That season he averaged 3.9 points and 2.4 rebounds a contest.
This was well before his drive to the basket, crash the boards, guarding the best player on the team Moore that everyone knows today.
His jump shot though is what threw everyone watching off.
Coming in as a freshman, Moore's shot did not have the typical high arcing path with a lot of back spin that one expects. Instead the shot was inline with his right shoulder and appeared to be a line-drive push that used his entire body. It worked for Moore, but many Mason fans, myself included, were skeptical.
"I actually grew up with a picture perfect jump shot. I was small growing up so I was always a shooter, not really a driver," Moore said. "Going into that junior year [of high school] I started getting back pain, like back spasms on my left side and I think that's what caused my shot [sic], I started swinging my shot"
"I think I was just trying to cope with the back pain by shooting like that. That's what really threw my shot off and I never really got that form back."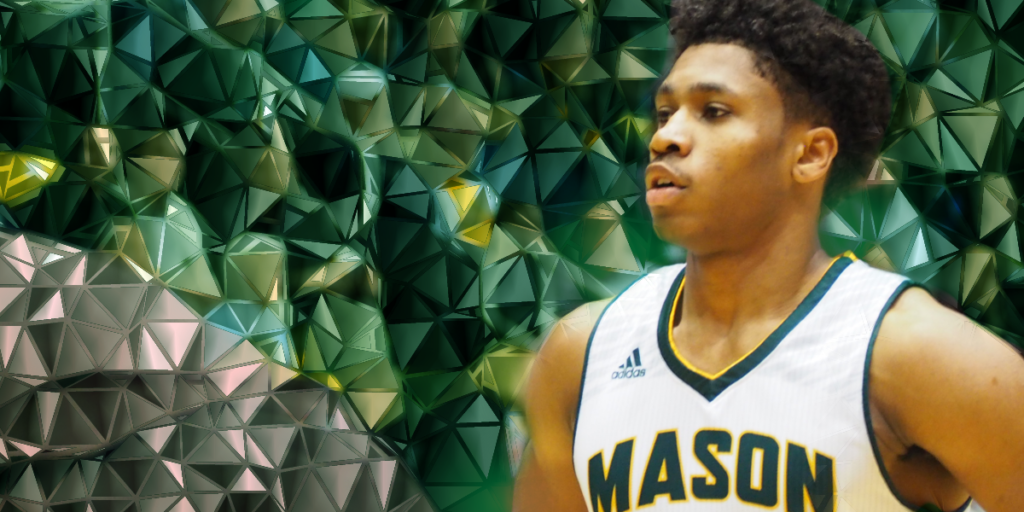 Freshman to sophomore year is always a big transformation time for college basketball players. Moore was no different. On top of gaining muscle, his shot appeared to get cleaner. It still had the same motion, but looked more aesthetically pleasing. His shooting percentage increased to 45 percent on the year with 9.5 points a game, but only had 3.2 rebounds.
"No matter how you shoot, if you practice that shot consistently you could become consistent with it," Moore said.
The real noticeable change though for Moore was felt right when the coaching change happened at the start of his junior year.
Notably for Moore was the addition of graduate assistant Bryson Johnson, who joined Paulsen's staff in Fairfax last season. Prior to his George Mason experience, he played for Bucknell under Paulsen, which included two NCAA appearances and one NIT appearance. He then played two professional seasons, one in Germany and one in Canada.
"I've been working with Bryce just to help straighten [my jump shot] out, get it as straight as possible, and he's helped me a ton with that, which is why I'm shooting better now," Moore said.
Johnson is also a former 6'2″ guard that is Bucknell's 11th best rebounder of all-time.
All attention though should not be focused on the current coaching staff, after all he was recruited by and played two seasons under Paul Hewitt.
Hewitt's coaching philosophy is far different than that of Paulsen, but was imperative in setting up Moore into what he is doing now. Under the former coach, the team played 'superstar basketball' that was focused on one or two players trying to score and then everyone else serving in a supporters type role. That mindset though has partly contributed to Moore's, and even Jalen Jenkins's, killer instinct when the team needs a basket.
"The previous coaching staff really helped me learn how to run the team, how to be more vocal, and be a leader out there," Moore said. "They helped me a lot in terms of being able to see what is happening on the floor, seeing what is developing, and making the right play."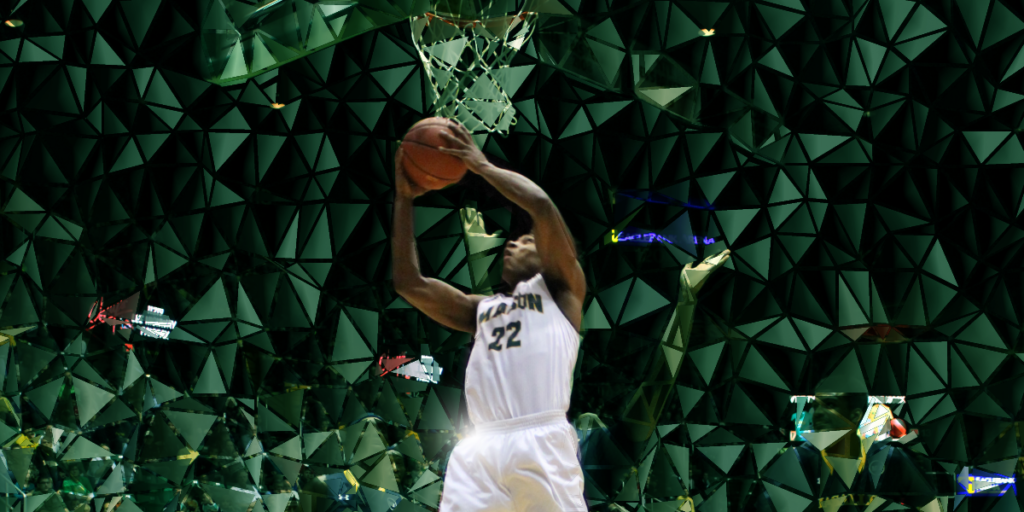 This season Moore has proven that he is not afraid of anything. He is not afraid of having to make a shot, going in and getting a big board, or just being in position for the right play.
Not only is he not afraid of it, but he thrives off of those big moments.
"I do whatever it takes to win," Moore said
When asked which is more satisfying, to drive for huge points or getting a key board, he responded, "it depends on how big the guy is. If its a real big guy, like a 6'10" or 6'11" guy and we both go up and I get the rebound over him, I probably like that more."
Through his work as a four-year starter, and a record breaking season this year, Moore has become one of the best in Mason's history. He is the only player ever at George Mason, in fifty years, to score 1,100 points, bring down 600 rebounds, and dish out 300 assists.
At the time of this article he is 24th all-time in scoring, 16th all-time in rebounds, and seventh all-time in assists. Based on his season averages he could end up 21st, 14th, and sixth respectively.
He is also the only player in George Mason history to record a triple-double, which he did earlier this season against Pennsylvania.
Moore is making so much noise by doing something rarely done in college basketball, only two players ever have averaged 18+ points, 10.5+ rebounds, and 3.5 assists over a full season and one was the 2016 NBA No. 1 overall pick Ben Simmons. Moore is currently at 17.6 points, 10.5 rebounds, and 3.6 assists.
There is no question that Moore will at least be considered for Atlantic 10 Player of the Year, but he faces tough competition against St. Bonaventure's Jaylen Adams and Richmond's T.J. Cline.
"Its hard not to hear it," Moore said. "I see the tweets, I see stuff of that nature. I just try to focus on getting better day-to-day. I know I keep working hard, I keep doing what I have to do, the results will come… Of course I'm not going to say I wouldn't love to be Player of the Year, but at the end of the day I want to win."
And Mason has done a lot of winning this season, more than the team has done in any of the other three years the guard has been here. The team has gotten 18 wins this season, the other three years combined: 32.
"There is a lot of basketball left to be played. I don't think we've even started playing our best basketball yet. I think we've just scratched the surface of what we can really do when we really lock in," Moore said.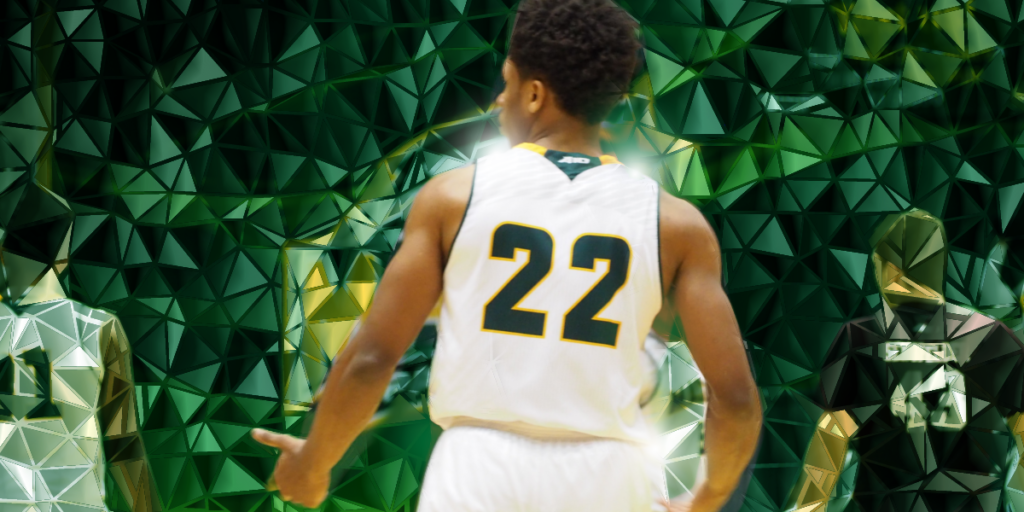 Leading the charge is Moore. Sometimes he does it quietly, and other times he forces everyone in the arena to take notice, but bottom line is people are paying attention. Unfortunately he is not even getting the proper coverage someone at Maryland or Georgetown would be getting at this time, and that may hurt his NBA/ professional potential down the road. But as far as George Mason is concerned, the Patriots are privileged to have Moore be the figurehead of the transformation of this team. The rebounding guard will surely lead to new recruits and even has changed the mindset of this team. I mean look at Marquise Moore Jr., with Jaire Grayer now driving to the lane and pulling down near double digit rebounds a night.
Moore is truly one of Mason's finest and he may not get that NCAA appearance that mid-major college stars long for, but the season is still young.
We all remember Ryan Pearson storming the student section in 2012. We all remember Lamar Bulter and Tony Skinn jumping onto press row after beating Connecticut in 2006.
What will it be for Moore? Just stay tuned.
"I don't think [my favorite Mason memory] has happened yet. I think we have some memories on the way this season."