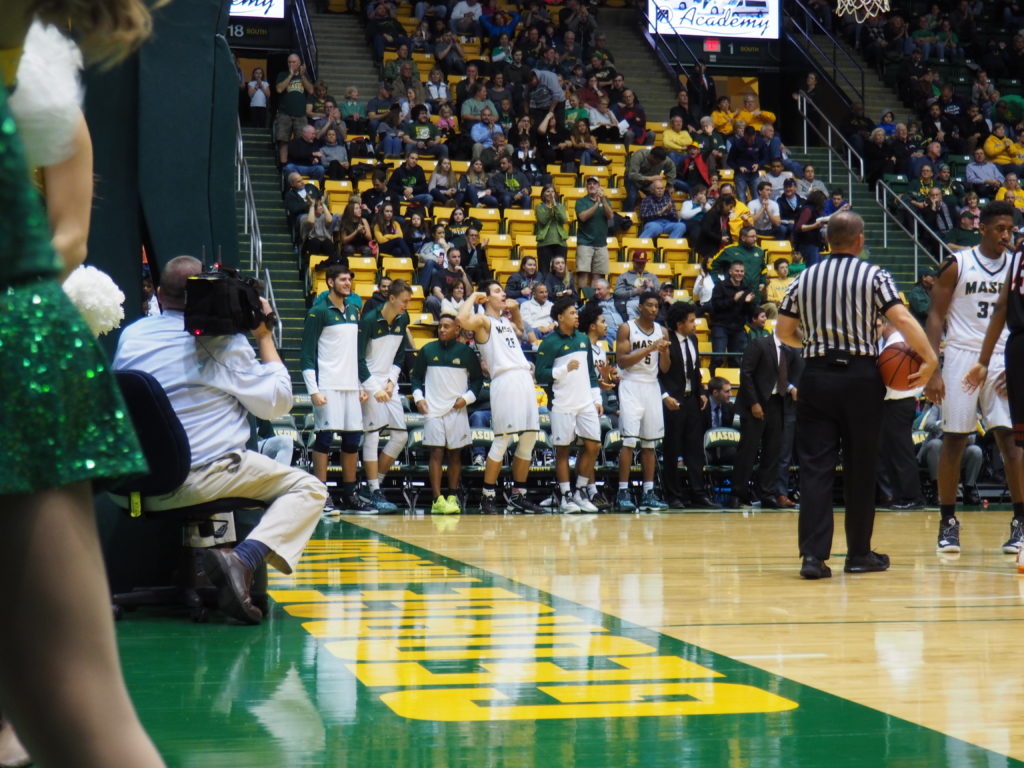 Photo by Chris Jones
George Mason gets their fourth road win of the season in Philadelphia with a 75-67 win over Saint Joseph's University.
Marquise Moore, scoring 24pts against the Hawks, achieved a career milestone by reaching 1,000 points as a Mason Patriot. In addition to leading the Patriots in scoring, Moore was three assists short of making his second Triple-Double this season with 10 rebounds and 7 assists. 'Quise, who averages 0.8 steals per game, ended the game with four steals. Oh, and he made his 500th rebound today, too.
The free throw tournament during practice at Philadelphia University helped the Patriots coming into this game, making 16 of 21 from behind the line. Otis Livingston II, the 'winner' of the FT tournament, was perfect from the free throw line, making 4 of 4. His remaining points game from behind the arc. Jaire Grayer ended the game with 11 points, six rebounds and was also perfect from behind the line.
The freshmen came in clutch with Ian Boyd, Justin Kier and Karmari Newman scoring 5, 7 and 10 points respectively. Newman into the game and quick scoped two from beyond the arc and Kier fell into a nice groove helping put together plays like the one below.
Thing of beauty pic.twitter.com/sw0eBrMvI5

— By George. (@ByGeorgeGMU) January 11, 2017
Mason started off with an early lead, that St Joseph's chipped away and made for a pretty close game. The first half ended with the Hawks up by one and the majority of the second half was a back and forth between the Patriots and the defending A-10 Champions. St Joes, like George Mason, loves to drive into the paint which spelled trouble for Jalen Jenkins (7pts, 5 rebounds), who had some questionable fouls called on him and fouled out near the end of the second half.
Ultimately, the Patriots came on top getting their second conference win, bringing their overall record to 12-5. St Joseph's, who will only play Mason once this season, falls to 2-2 in conference play and 8-7 overall.
Mason basketball returns to Fairfax on January 14th, 2017 to face off against Saint Louis.