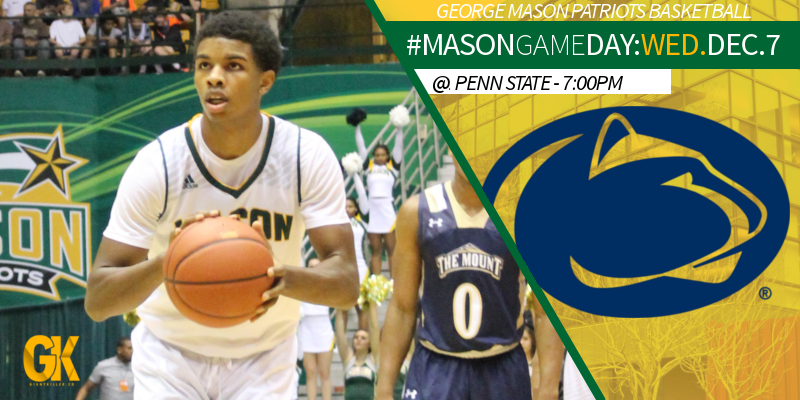 George Mason is looking for their third straight top-100 RPI victory when they travel to Penn State on Wednesday.
It will be George Mason's first contest against a Power 5 school on the season and they will be the third Atlantic 10 team Penn State has faced. The Nittany Lions have beaten both Duquesne (82-74) and George Washington (74-68).
LAST GAME: GEORGE MASON WINS FIFTH STRAIGHT
Penn State (6-3) is one of the highest scoring teams the Patriots have faced all season. Three times this year they have surpassed 80 points, with four starters averaging double figures.
With that being said, they are a streaky team with three freshmen in the lineup. When the jump shots do not fall, the Nittany Lions have trouble finding other ways to score, similar to what Mason fans saw with Northern Iowa. George Mason (6-3) will not be able to rely on a cold shooting night though because they average 42 percent from the field on the season.
STREAM: Big Ten Network
It will be a stellar matchup of the backcourt in this contest. The duo of Shep Garner and Tony Carr will be paired up with Otis Livingston II and Marquise Moore in a battle that may determine the game outcome.
On the year, Garner, a junior, brings in 14.9 points a contest, which leads Penn State compared to his freshman counterpart Carr, who averages 11.9 points.
Livingston and Moore have rapidly showed strength at guarding their positions and left many opponents to rely on their wings and post players to be effective.
Despite the Nittany Lions running a three forward rotation, the team has struggled to rebound all year. Moore, who leads the Atlantic 10 in rebounds and the nation from the guard position, will be able to have another big night as he is already averaging 10 boards a game. As Jalen Jenkins (6.4 rpg) will be occupied with one of the bigger forwards, look for Ian Boyd (2.2 rpg) and Justin Kier (5.1 rpg) to get involved crashing the boards as well.
What Penn State lacks on the boards, they gain with steals and transition plays. The team has 63 steals on the year, compared to Mason's 41. The Nittany Lions pack the paint to prevent drives and low ball passes inside. As a result Garner and Carr become the outlets for a quick scoring opportunity.
In addition Mike Watkins (9.7 ppg) prevents floaters and other big men from scoring near the rim. He has 33 blocks on the year and his team has 57. As a redshirt freshman, he is fourth in the country with 3.67 blocks per game.
A10 NEWS: #JUMPBALL: DUQUESNE WINS CITY GAME OVER PITT
With the matchups, Kier and Jaire Grayer could end up having big nights for the Patriots at the wing. It will give Grayer the opportunity to get his three point game going, with his defender pulling off to help a strong driving Moore. The sophomore's shooting percentage is stagnant at 26 percent after being nearly at the 30 mark last season.
As of Tuesday morning, Penn State is ranked 81 in the national RPI. George Mason has slowly climbed up to 191 with their two big victories last week.
The Patriots have never beaten Penn State (0-6) in the program's history and the last time these two teams played was in the 2009 NIT.
If the Patriots were to win, it would extend their winning streak to six games, which would be their longest since January of 2012.
Prediction: Mason 76                        Penn State 70