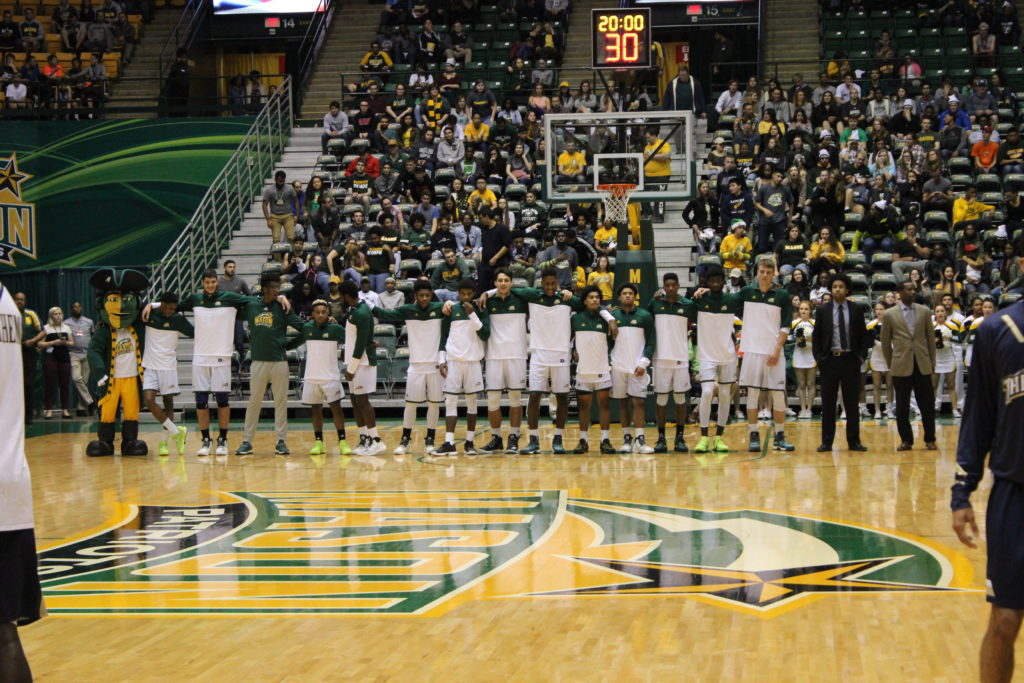 Photo by Chris Jones / By George
In an all-around performance, George Mason put together their most complete game on the season Saturday night to beat the Mercer Bears 79-68 for the team's fifth straight victory.
Three starters for the Mason (6-3) reached double figures, led by senior Marquise Moore with 21 points. It marked the third time Moore has scored 20+ points on the year and with 12 boards he brought in his fifth double-double of the season. In Moore's career he only has seven 20+ point games and seven career double-doubles.
Otis Livingston II scored 17 points on the night, while tying a career-high in assists with seven. The sophomore guard had zero turnovers for the first time all season.
It was not only Livingston that played a clean game for the Patriots; as a whole there was only five turnovers on the night with only 11 fouls called against them. There was only one other time that Mason had so few turnovers in a game (vs. Division III Lebanon Valley) and the lowest amount of fouls on the season.
A10 NEWS: #JUMPBALL: Resume Power Rankings
Mercer (4-4) kept with the theme of a clean game, with only six turnovers. As a team they had 14 assists and 17 fouls with only one player risking foul trouble.
Having a balanced attack as well, the Bears had four players reach double figures with Ria'n Holland leading the pack with 17. Coming into the contest, Holland led Mercer in points (18.6) as well as three point shooting (42.3 percent). Covered by Mason's Moore, Holland was limited to 1-9 shooting from behind the arc, his worst performance on the season.
As a team, the Bears only scored six of the 24 long ball attempts (25.0 percent) in the game.
Besides Holland, juniors Jordan Strawberry and Demetre Rivers both had 16 points. With five assists Strawberry led the team and Rivers had the best shooting night with 7-10 from the field.
LAST GAME: GEORGE MASON UPSETS NORTHERN IOWA
In this matchup, the Patriots shot their best from three point range. The team had season-highs with 47.1 shooting percentage from three and three point baskets with eight.
Three of those eight came from freshman, Ian Boyd, who had 11 points (4-5) off of the bench. He surpassed his career high in rebounds with eight, two on the offensive end. Like Livingston, Boyd had no turnovers in the game.
Before the game, Mercer was ranked 79th in the national ESPN RPI. With the victory, it game George Mason their second straight win over an opponent in the top-100 rankings.
The winning streak for the Patriots has now extended to five games, the team's longest since February of 2012. That season the team finished 24-9 and had made it to the CAA Championship Game.