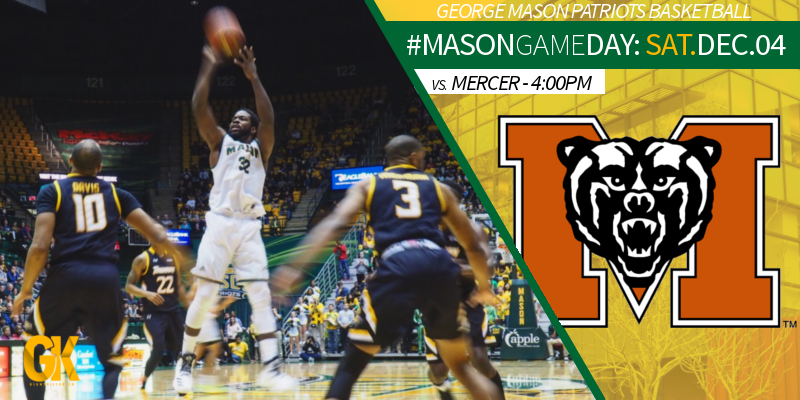 This Saturday the George Mason Patriots (5-3) look to extend their longest winning streak in three years by hosting Mercer (4-3) at EagleBank Arena.
George Mason has won four straight games dating back to the Gulf Coast Showcase. The biggest win came earlier this week against Northern Iowa, who was previously ranked fourth in the national RPI.
Mercer is coming off of a 78-57 loss to another Atlantic 10 opponent, Davidson. The Bears, from the Southern Conference, have non-conference wins against Georgia Southern, Radford, and East Carolina.
RELATED: CATCH UP ON #JUMPBALL FOR LATEST A10 NEWS
It will be another team the Patriots will face that has a strong shooting game. On the year, Mercer has a 43.5 percent field goal percentage with a 34.0 percent field goal percentage from behind the arc. A majority of their scoring comes from juniors, Ria'n Holland (18.6 points per game) and Demetre Rivers (11.0) points per game.
Last game, the Patriots' defense held the previously hot shooting Northern Iowa Panthers to only 26 percent.
Although the team has runs a traditional offensive set with two guards, two forwards, and a center. The height advantage does not favor either team. Jalen Jenkins (9.9 ppg, 6.9 rpg) will have his hands full defensively in the post, but Troy Temara and Daniel Relvao have proven their spot in the rotation to take relief off Jenkins.
As a result, fast-break opportunities will be the perfect opportunity for Mason to take control of the contest.
The Patriots do not have many steals on the season but they can quickly run the floor. Otis Livingston II is the primary focal point of transition chances for Mason. Using his vision, speed, and senior-level decision making, almost every fast break possession turns into points for the Patriots.
Despite a slow start from Livingston, the 2016 A10 All-Rookie team selection is averaging 13.8 points, and 3.1 assists per game. The sophomore guard has becomes Mason's biggest three point threat (38.2 percent), and leads the team with 13 long range baskets.
While Mason is a second half team, the Patriots can circumvent this by using the leading scorer, Marquise Moore, to attack early. Mercer does not have a deep bench and relies on their starters to score, if Moore can penetrate the paint early and pick up foul calls, the Bears would get into early foul trouble. The senior is sixth in Division I basketball in free throw attempts with 71.
On the year, Moore is nearly averaging a double-double with 16.9 ppg and 9.8 rpg. As a 6'2" guard his rebounding numbers are the 32nd best in the entire country.
READ AGAIN: GEORGE MASON UPSETS NORTHERN IOWA
Familiar with opponents that rely on ball movement, the Bears will be no different. The Patriots have improved their defense against the pass-heavy teams as the season has gone on, culminating with the Northern Iowa upset. Mercer dishes out nearly 14 assists a game but also turn the ball over on average 12 times a game.
This is the third time these two schools have played against each other, with the all-time series standing at one game apiece. Mercer won the meeting last year 69-60, where Livingston had 17 points and five assists. Only five current Bears played in last year's matchup, three coming off the bench.
Prediction: George Mason 68     Mercer     61