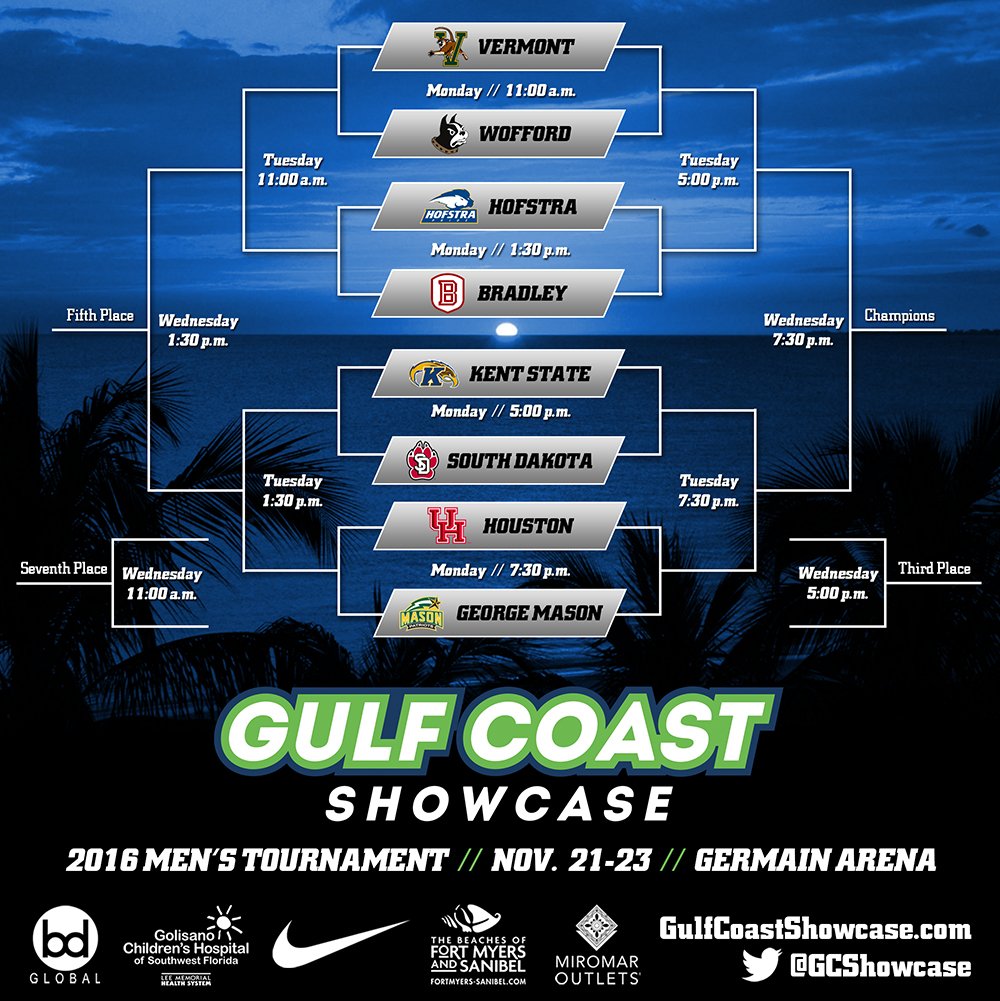 The George Mason Patriots have made their way down to Estero, Florida for the team's lone preseason tournament of the year, The Gulf Coast Showcase.
In this tournament, Mason will face off against seven other mid-majors and teams from single-bid conferences, including Houston, Kent State, South Dakota, Bradley, Hofstra, Wofford, and Vermont.
NEW: GK FAN ZONE – Stream the game & chat with fans!
Last season, this George Mason team under Dave Paulsen made waves in their preseason tournament, the Charleston Classic. The team was able to knock off two Power 5 schools, Ole Miss and Oklahoma State, before falling to Virginia in the championship game.
Unfortunately for the Patriots (1-2), the team faces the favorite in their first matchup of the tournament, the Houston Cougars. For those that do not remember Houston is a team Mason beat in the second round of the 2013 CBI tournament. Houston (1-0) made the NIT tournament last season before being knocked out by Georgia Tech in the first round.
The Cougars are one of the most experienced teams in the country. There are five seniors and five juniors on the roster and they are returning three starters from last season. It will be another opponent that has a taller lineup than the Patriots that can pound the ball inside. Last week George Mason gave up 56 points to Mount St. Mary's inside the paint.
Through only one game, Houston is led by their junior guard Rob Gray; against Morgan State he had 22 points and was 4-8 from three point range. Last season off the bench, he had the highest point average on the team with 16.0 per game.
One of their biggest advantages is their offensive rebounding; they averaged nearly 13 per game last season. Their two best offensive rebounders both are returning this year, Danrad Knowles (3.7 rpg off the bench) and Damyean Dotson (6.8 rpg as a starter).
The team's lone game was to Morgan State, which the Cougars dominated 93-52.
Even though Mason is a guard heavy team, expect to more of the bigger guys worked into the rotation. This would include DeAndre Abram and Ian Boyd as the fourth guard, or even having Troy Temara and Daniel Relvao come into the game alongside Jalen Jenkins. This will be more to matchup defensively than to compensate for the team's inability to connect from long range.
Three point and free throw shooting are the biggest aspects missing from Mason's game right now. The team is averaging under 19% shooting from behind the arc and only 61% at the line. Against Houston, and all of the teams Mason will face, limiting turnovers while continuing ball movement will be a deciding factor.
Houston will be the toughest team Mason will play in the tournament. The Cougars are favored to win the whole event, with only the Cougars, Hofstra, and Vermont to go above .500 last year.
Potential Opponents:
Kent State (3-0):
2015-16 record: 19-13
Two players to watch:
Jimmy Hall                              F          6-8       Sr                     21.3 ppg          12 rpg
Danny Pippen                         F          6-9       Fresh               6.7 ppg            8 blocks
Strengths: Rebounding, unselfishness
Weaknesses: Low caliber of opponents, bench play
South Dakota (4-0):
2015-16 record: 14-18
Two players to watch:
Trey Burch-Manning               F          6-6       Soph                14.3 ppg          7.8 rpg
Matt Mooney                          G         6-3       Soph                11.3 ppg          2.3 spg
Strengths: Pass-first team, balance in scoring, rebounding
Weaknesses: Inexperienced (one senior), turnovers
Hofstra (1-2):
2015-16 record: 24-10
Two players to watch:
Eli Pemberton                         G         6-4       Fresh               19.3 ppg          12/18 3pt
Rokas Gustys                          F/C      6-9       Jr                     6.7 ppg            14.7 rpg
Strengths: Guard play, balance of youth/experience
Weaknesses: Free throw shooting, rebounding, small roatation
Bradley (2-1):
2015-16 record: 5-27
Two players to watch:
JoJo McGlaston                      G/F      6-5       Jr                     13.0 ppg          6/12 3pt
Darrell Brown                         G         5-10     Fresh               11.0 ppg          3.0 apg
Strength: Depth
Weaknesses: Free throw shooting, rebounding
Vermont (3-1):
2015-16 record: 23-14
Two players to watch:
Payton Henson                        G         6-2       Jr                     15.8 ppg          60% FG
Trae Bell-Haynes                    F          6-8       Jr                     9.8 ppg            5.8 apg
Strengths: Rebounding, assists, balance in scoring and player rotation
Weakness: Turnovers
Wofford (1-1):
2015-16 record: 15-17
Two players to watch:
Fletcher Magee                       G         6-4       Soph                17.5 ppg          3.0 apg
Nathan Hoover                       G         6-4       Fresh               13.5 ppg          0 turnovers
Strength: Experience of starters, bench play, free throw shooting
Weakness: Rebounding, transition offense, turnovers
Prediction: Mason 5th place              Tournament Champion: Houston