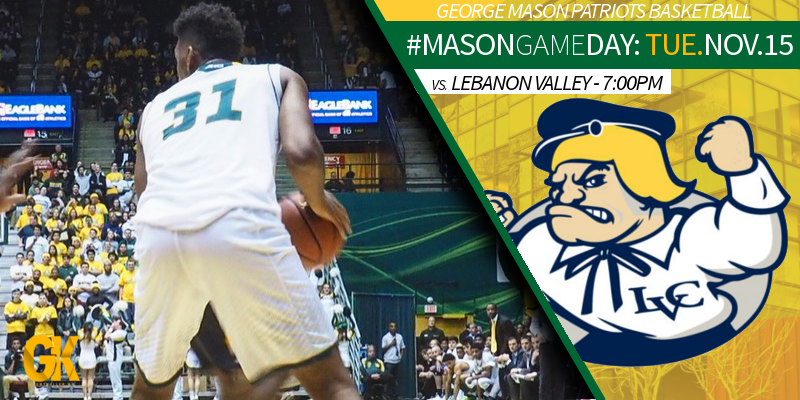 When: Tuesday, 11/15/2016, 7:00pm
Where: EagleBank Arena (Fairfax, VA)
Dress Code: N/A
Bars: N/A
TV: N/A
Online Streaming: A-10 Network
The George Mason men's basketball team will have a chance to rebound this Tuesday after their season opening loss against Towson over the weekend. The team host Lebanon Valley College, a Division III program, as an opening round game of The Gulf Coast Showcase.
The Patriots will look to use this game to address the issues the team faced in the season opener. Limiting turnovers, stopping second chance opportunities, and increasing defensive pressure will all be aspects that Mason will be able to work on.
Unfortunately, ball movement while tired, will probably not be a problem that the Patriots can fix in this matchup. Anticipating the outcome of a Division I vs. Division III game, the team will be able to quickly go to their bench. Not only will it be advantageous to get the young freshmen more playing time heading into the Gulf Coast Showcase, but it will give starters some rest with the team playing five games in nine days.
Expect increased time for Karmari Newman, Ian Boyd, and Daniel Relvao as they look to be the regular bench players for Mason.
After a strong performance against Towson, Justin Kier will be worked into the rotation but will not be a focus for Dave Paulsen to get more on-the-court time. His 24 minutes led the bench, as well as his four points, and four rebounds.
Last season the Flying Dutchmen had one of its most successful seasons in the past decade. The team finished with a 16-11 record and made their first MAC Commonwealth postseason appearance since 2010-11. The team has four starters returning this season, including D-III News Fourth-Team All-American Andy Orr.
Orr, a junior, has also been named a Preseason All-American by D3hoops.com and D-III news. As only a sophomore, he averaged 21.3 ppg last year, shot 53 percent from the field and 44 percent from long range.
Matching up well against the Dutchmen, Mason should aim to win the rebounding battle. There are only three players that are above 6'4" on Lebanon Valley's roster, one of which being Orr, who likes to play as a flex-forward.
They do have one thing that the Patriots lack, experience. There is only one freshman on the Lebanon Valley roster, which is loaded with 10 juniors. Nonetheless, Mason will have the talent to outmatch them.
No matter of the result of the game, the Green and Gold will participate in the Gulf Coast Showcase next week where they will face the Houston Cougars in the first round. This matchup is scheduled as an 'exempt game' to limit the number of scheduled games in one season. All other teams in the tournament will be playing an 'exempt game' as well.
This will be Lebanon Valley's first game of the season.
Prediction: Mason 91            Lebanon Valley 56