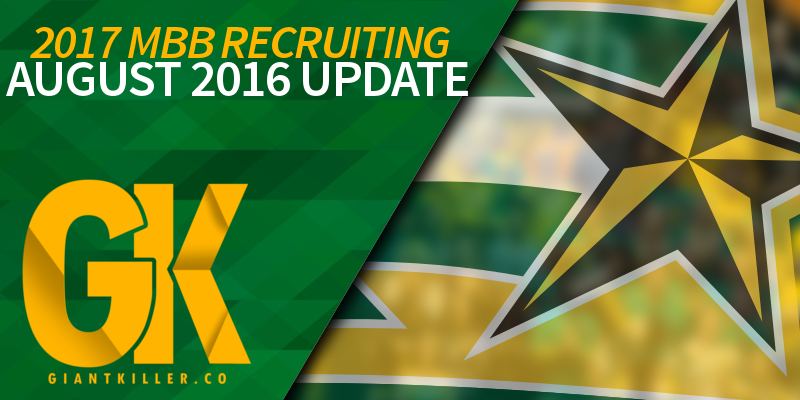 Point Guards:
– Geo Baker has committed to Rutgers.
– Jamir Moultrie, a local kid from Bowie, MD recruited by Duane Simpkins, has cut Mason from consideration with his final seven being La Salle, Monmouth, Rhode Island, Georgia, Butler, Murray State, Arkansas State. Some are speculating he will commit to Georgia, his latest offer.
– Ryan Allen, out of Baltimore and also recruited by Coach Simpkins, has open offers from; Mason, Mount St Mary's, UAB, Quinnipiac, and Towson. He is also gaining interest from Davidson, JMU, Delaware and San Diego. He has unofficially visited JMU and Delaware. From what we can see, more offers will come in during his senior season at DeMatha, Coach Simpkins' alma mater. He still hasn't announced any cuts.
– Jalen Gibbs, one of the first 2017 PG offers Mason sent out after the coaching change, has received an offer from Navy earlier this summer. He only holds two official offers Mason and Navy, but has attracted attention from other programs over the summer. Catawba College (DII), UMBC, Kansas State, Duquesne, and VMI (Former Mason assistant Kreider follows him) have expressed interest in him. More offers are expected to come as he enters into his senior year at North Point High School in Maryland.
– Jack Sorenson, who is AAU teammates with Goanar Mar, has added offers from Ball State and Portland this summer. He has some power five interest; taking unofficial visits to Nebraska and Minnesota and receiving an offer from Ole Miss. His stock as a player hasn't gone up because he missed out on playing a season of AAU play due to an injury. He may add more offers as he starts his high school season and plays one last AAU season next year. He doesn't have much social media presence and not much else is known about his recruitment.
– Kristers Zoriks has attracted interest from many power five programs including UVA, Nebraska, Wisconsin and Wake Forest which is the only P5 to send an offer. This summer he added an offer from UNCG. He has played for Latvia's U18 team in FIBA play. He has yet to narrow down his decision.
– Javon Greene, recruited by assistant coach Aaron Kelly, went from a single mid major offer to adding seven in a single summer including Mason, Chattanooga, CCU and others. He has also attracted interest from Towson, Duquesne, Louisiana Tech (Asst. Coach Tony Skinn), Charleston Southern, Murray State, Princeton, Rice, and Campbell just this year. Javon is positioned to blow up on the recruiting trail this year possibly attracting interest from power five schools as more mid-major programs send in their offers. UPDATE: Javon Green will visit Mason this weekend (8/27-8/28).
Shooting Guards:
– Darius Banks received an offer from Mason earlier this summer. He also added offers from Duquesne, UTSA, Delaware and UNCG. He is a highly sought after shooting guard, ranked as a 4-star recruit by ESPN. Darius currently has one power five offer, Kansas State, but has attracted interest from another P5 program, Purdue. He also has interest from Northern Arizona, Stetson, Charleston Southern, Wichita State, Winthrop, Hofstra, American and Princeton. Chances are he will add one more power five offer and a few more mid-major offers before he starts finalizing a decision.
– Chyree Walker has stayed relatively quiet this summer. His only offer this year came from Mason. He currently holds offers from Georgia Tech, vcu, Towson, UCF, ODU, JMU, Saint Joe's and UAB. Although his offer list isn't long, he does have interest from various programs, both mid major and power five, like Princeton, Tulsa, GW, Kansas State, Penn, Cal Poly, Florida, Stanford, UConn, VMI (Kreider), Virginia Tech, LA Tech (Skinn), Texas Tech, and many others. He visited JMU and VCU this summer. Since he is attracting power five interest, chances are more offers will come in as if he has a successful final year before making his decision.
– Thomas Allen, recruited by Duane Simpkins, has had a successful summer on the recruiting trail; adding five power five offers. Mason was one of the last mid majors send Allen an offer. He holds scholarship offers from vcu, Virginia Tech, Ohio State, Illinois, NC State and many others. NC State has been one of the schools recruiting him the hardest. Wolfpack fans have expressed their interest in his commitment to their program openly and consistently on social media. Out of the power five offers he has Virginia Tech and Ohio State are the ones lacking SG depth, which could mean he could get more playing time there which is sometimes uncommon for incoming freshmen at power five programs. Although he is a highly sought after 3-star recruit, he isn't focused only on his power five offers. He recently took an unofficial visit to Saint Louis and had a "change in perspective" This could mean there is hope for a commitment to mid-major programs who have offered him including George Mason. His successful seasons with Adidas Nations (AAU) has attracted interest from various other programs too including Texas, Dayton, Princeton, and many others.
– Mike McGuirl, recruited by Aaron Kelly, has attracted a lot of attention this summer. Just today, he received an offer from the Coach L and the Miami 'Canes, making them his second power five offer after Kansas State. Mike is probably one of the top SG's in New England getting offers from almost every major mid-major program in the region; Hofstra, St Bonaventure, NJIT, Brown and others. He also has interest from Cornell, UNCW, Wagner, San Diego, Loyola (Chicago), Princeton and others. So far we only know of one visit, an unofficial to Hofstra, but with what we've learned today about his Miami offer, his stack as a recruit will definitely go up between now and when he makes his decision.
– Greg Elliott is another recruit from Michigan — a state producing a couple of the players on our current roster Karmari Newman and Danny Dixon. George Mason was one of his first offers which was then followed by various other mid majors like Valpo, DePaul, Kent State, Robert Morris, Duquesne, UW-Milwaukee and others. He has interest from Michigan, a school he is a fan of, and PAC-12 school Washington State. Other programs are interested in Elliott like Ball State, Butler, UAB, GW, Xavier, Tulsa, New Mexico State and others. This year will be crucial for Elliott for attracting power five offers, but based on his current visits, Xavier, Rice (9/2/16) Milwaukee and Toledo, he may decide to stick with mid-major programs unless, of course, Michigan comes knocking with a scholarship.
– Donald Carey, a DMV hooper from Upper Marlboro, MD recruited by Aaron Kelly, has had a relatively quiet summer receiving only one other offer from St. Peter's (MAAC). His only other offer apart from Mason's is from Howard University. Although he only holds three offers, he has interest from New Hampshire and Temple. This year will be crucial for him in order to attract more offers. From what we've seen in his highlights, Carey has the potential to be a highly sought after recruit. During his junior season, he averaged 12 pts, 5 assists and 5 rebounds a game. Carey would be a good addition to the program adding depth and helping build the roster for future seasons.
Small Forwards:
– Eddie Scott committed to University of Pennsylvania.
– De'Vondre Perry cut Mason from consideration; Hokies, Kansas State, USC Trojans and Temple are his final five.
– JP Moorman has cut Mason too; U of Richmond, Georgia Tech, UNCW, Temple and Cincinnati are his final five.
– Tshiefu Ngalakulondi says he has a top 3 with Duquesne being one of them and one of his next official visits (Source). He also has visited George Washington, LaSalle, Temple and Monmouth. With Goanar Mar committing to Mason, chances are very slim that Mason is in his top three.
– Teddy Allen, recruited by Dane Fischer back in July, has since received two power five offers from West Virginia and TCU. He has not cut his list down yet.

FOLLOW US FOR NEWS & UPDATES ON MBB RECRUITING: