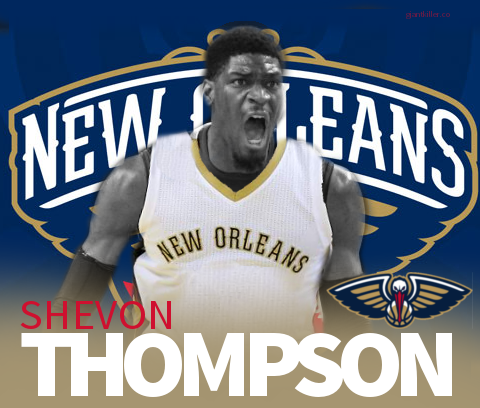 The games below will be played in Las Vegas, NV from July 8th-11th, with the remaining games TBD. All NBA Summer League (Las Vegas) games will be broadcasted via ESPN networks and/or WatchESPN streaming. The first game on July 8th, 2016 will be broadcasted on ESPN.
TV: ESPN Networks (Vary / Check Local Listings)
Stream: WatchESPN
Make sure to tune in and support Shevon Thompson.
Games:
Friday, July 8 Game #1 vs. Lakers – 10:30 p.m. Thomas & Mack Center
Sunday, July 10 Game #2 vs. Jazz – 8:00 p.m. Cox Pavilion
Monday, July 11 Game #3 vs. Kings – 10:00 p.m. Cox Pavilion
—–
Wednesday, July 13 Playoffs – Round 1 TBD Thomas & Mack/Cox Pavilion
Thursday, July 14 Playoffs – Round 2 TBD Thomas & Mack/Cox Pavilion
Friday, July 15 Consolation Round TBD Thomas & Mack/Cox Pavilion
Saturday, July 16 Quarterfinals TBD Thomas & Mack Center
Sunday, July 17 Semifinals TBD Thomas & Mack Center
Monday, July 18 Finals 6 p.m. Thomas & Mack Center