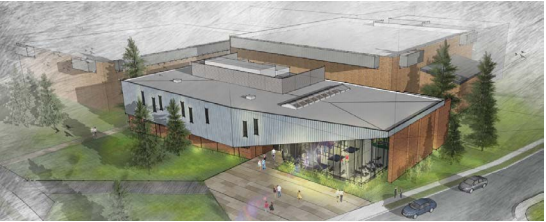 George Mason has announced plans for a dedicated practice facility for both Men's and Women's Basketball. The practice facility will be part of the RAC complex on campus, less than a mile from EalgeBank Arena.
Currently, the Basketball team practices in EagleBank Arena or the RAC, which are two venues used by other parties as well. When Paulsen came to Mason, he mentioned the need for a practice facility and locker room upgrades stating that its difficult to practice when the circus is in town (referencing the circus that was literally in town taking up the EBA for a few weeks).
The proposed facility is part of a three building plan; a wrestling facility added to the Field House, an "Athlete Academic Support Center" which will replace the trailers currently being used behind the RAC and of course the Basketball facility that will be built as an extension of the RAC. The whole project together will cost an estimated $15.5 Million and is expected to be 100% donor funded — most likely a part of the Faster Further campaign.
The facility will add 14,500 sq ft to the 120,000 sq ft RAC facility. Which will include renovations to the existing basketball courts, strength and conditioning rooms, dedicated locker rooms, team lounges, offices for coaches and a video screening room. According to the sketch given, the facility will extend the existing basketball/cage gym area in the RAC and build towards the PV Lot behind the RAC. The 7,000 sq ft academic center will be built across the street from where the Basketball facility will be in the PV Lot replacing the trailers that are currently being used by athletes on campus. 4,800 of that space will dedicated to an academic resource center and the remainder will be for group study rooms and administrative offices.
The project is not yet set in stone and can be subject to change. The price is a current estimate and may go up. The project will be discussed during the BOV meeting February 11th, 2016.