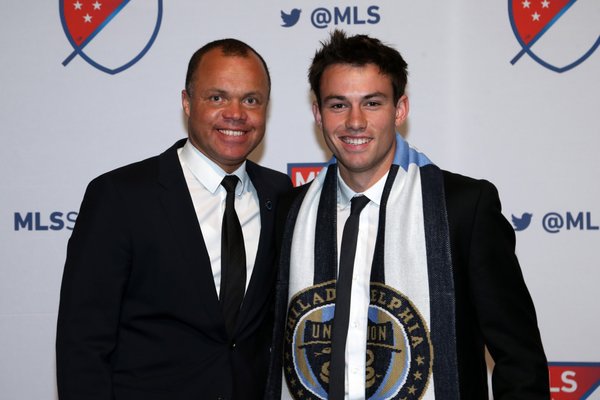 The Philadelphia Union drafted George Mason Patriot, Taylor Washington, in the second round of the MLS Superdraft.
Taylor was the 23rd overall pick in the draft. MLS experts speculated that the Union was going to draft defenders heavily since the team suffered defensively last season. Three of the four draft picks the Union had were defenders — two from Georgetown and Mason's Taylor Washington.
Union head coach Jim Curtin stressed the importance of drafting defenders who could not only defend well, but also start on the offensive when the ball is recovered.
"It will be a bit of a new style that we are going to have and we are excited to unveil it and these pieces, Washington included – I am glad Earnie mentioned it because he gets a bit forgotten in this – he's a very strong player that had a great college career and also did very well showing in the combine. We've been talking to a lot of people and a lot of people have been very high on him as well. So, a good strong left back and we're happy with the depth we now have at each spot, we have two at each position and we will have good competition in preseason."
-Jim Curtin, Philadelphia Union Head Coach
Taylor Washington, a Left Back, will not be an immediate starter for the team as Curtin said during the press conference following the draft. Fabinho, the starting LB for the Union, signed a continuation deal yesterday so Washington will have to compete for the starting position in the pre-season. This will allow the Union to have the depth defensively they desperately need after allowing 55 goals in 34 games last season.
Post Draft Interview:
This is the second straight year George Mason University Soccer and head coach Greg Andrulis have produced an MLS signee. Last year, Timi Mulgrew signed with the New England Revolution. The only other Atlantic 10 conference player drafted was Virginia Commonwealth's Dennis Castillo, also a defender, who went No. 37 in the draft to FC Dallas.