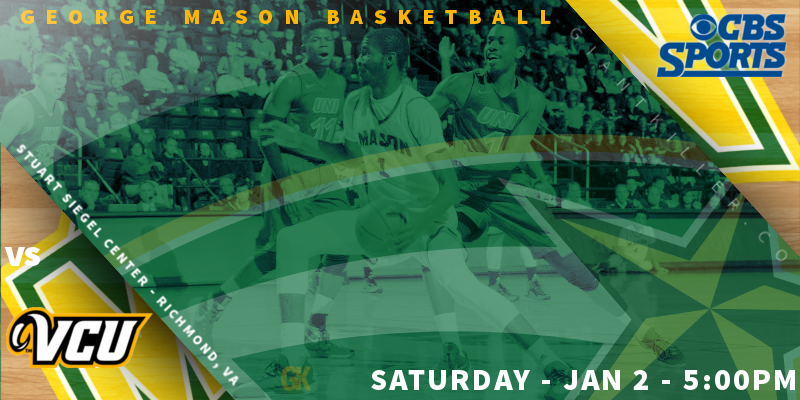 .
When: Saturday, 01/02/2016, 5:00pm
Where:
Siegel Center (Richmond, VA)
Dress Code: Not Specific
Bars: Watching Party and Happy Hour @ Red Hot & Blue (Hosted by @ByGeorgeMason)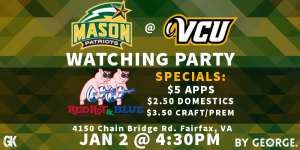 TV: CBS Sports Network.
Online Streaming: CBS Sports Network Online (Live Video) – Live Stats (Provided by VCU)
George Mason (6-7) and VCU (8-5) will face each other with new coaches for the first time to start off the programs' respective A-10 schedules. VCU is looking to stretch their home winning streak to 4 games. Mason is coming off Christmas break and two wins at home against Wagner and Longwood.
Even though VCU has a new coach, their team is doing well. Although they're 8-5, their 5 losses have come at the hands of power five opponents — most recently #23 Cincinnati which was also their last home loss. Since then, they've won three straight at home against Buffalo, Liberty and North Florida all by at least 12 points. To keep the game close or possibly win, Mason's young team will have to play smart and keep errors to a minimum.
Also, VCU doesn't have a single national championship #NeverF0rget.
Player(s) To Look Out For:
#32, Melvin Johnson:
The lead scorer for the national-championship-less VCU Rams with 18 points per game. Melvin is a player to look out for outside of the arc with a 43% accuracy. Our freshmen will have to be careful of fouling Melvin as well, he will convert fouls into points shooting 90% from the free throw line.
#12, Moe Allie-Cox:
Moe and Melvin are the only two players to start all thirteen games for Will Wade this season. Unlike Melvin, Moe doesn't shoot from the outside at all. He is the most accurate scorer on the VCU roster, making 56% of his shots. Not to mention, the guy is pretty huge at 6-7 250lbs. Mason will have a hard time trying to defend Moe — it'll be interesting to see how Paulsen and the team will handle him.
Wild Cards:
The VCU underclassmen have played very little this season. Unless VCU plays any of their underclassmen, chances are there won't be any real 'wildcard' players who could catch Mason by surprise.