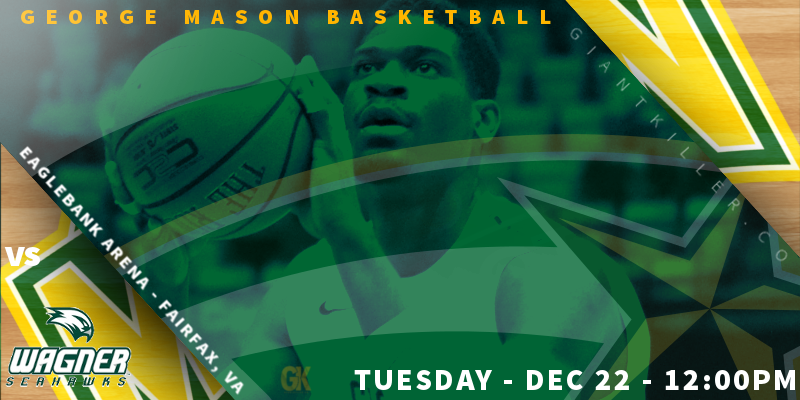 .

When: Tuesday, 12/22/2015, 12:00pm

Where: EagleBank Arena (Fairfax, VA)

Dress Code: Not Specific

Bars: N/A it's noon, fam.

TV: N/A – Online only.
Online Streaming: A-10 Network (live – WGMU (Live Audio) (Radio)
Mason looks to get their sixth win of the season against Wagner at EagleBank Arena on December 22nd, 2015. This is the second meeting between the two teams — their last meeting was in 1983 with George Mason taking home the win. Wagner has a better record at 6-3 with their only losses coming from St. John's, Seton Hall and the number one bench in the country, Monmouth. When you look at Wagner's strength at schedule, it ranks at 293rd out of 351 division one teams. George Mason's strength of schedule ranks at 114th.
Player(s) To Look Out For:
#0, Corey Henson:
Corey leads his team in points; scoring an average of 15 points a game, making 40% of his shots from the paint and 43% from the arc. Henson is also an accurate free throw shooter at 79%. He doesn't foul often so Mason will have to nullify his shooting game and force him to pass.
#2, Dwan Anderson:
Like Corey, Dwan is roughly 40% from inside the paint but, is a horrible 3 point shooter. The 210lb Michigan State transfer averages 12 points a game and 6 rebounds a game, but has been in foul trouble in a third of the games this season. Pressuring him to shoot from the arc could nullify his role on the court.
Wild Cards:
#34, Mike Aaman:
Mike averages 6 points and 6 rebounds a game which wouldn't make him a player necessarily look out for, but he is a Rhode Island transfer who has played George Mason before in A-10 play.