.

When: Tuesday, 12/08/2015, 7:00pm

Where: EagleBank Arena (Fairfax, VA)

Dress Code: Not Specific

Bars: Red Hot & Blue – 4:00-6:30pm – Event by @ByGeorgeMason

CLICK FOR FULL MENU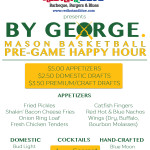 TV: American Sports Network (Check Local Lists Here)
Online Streaming: WGMU (Live Audio) – 99.1 WNEW (Radio)
George Mason comes off a 64-44 win against the University of Pennsylvania. Northern Iowa, like George Mason, has had some notable games against power five schools. UNI beat ranked, #1 UNC, but has also lost the University of Richmond Spiders 82-67. The Patriots played UNI last season and took them to overtime, but failed to seal the win losing 65-71 on the road.
Player(s) to Look Out For:
#20, Jeremy Morgan:
Jeremy leads the Panthers in shooting from outside the arc with an accuracy of 50%. He averages 13 points a game and shoots 80% from the free throw line. Defensively, Jeremy can be a problem for the Patriots — forcing 14 turnovers this season. Although he is a good in the backcourt, Jeremy gets himself in trouble often with 17 personal fouls this season.
#11, Wes Washpun:
Wes leads his team in points; most of which come from the paint and the free throw line. The Patriots will have to force Wes to pass or shoot from the outside where he shoots 35%. Wes knows how to draw fouls, going to line more than the rest of his team.
Wild Cards:
#9, Klint Carlson:
Klint has only played four games this season, but has shown to be an effective player coming off the bench. Shooting 90% from the FTL and a decent shooter making 55% of his shots. He isn't small either; 6-7 225 pounds.