During Mason Madness, the Women's basketball wore what looks like their home uniforms. By looking at past uniforms, both the men's and women's teams wear the same uniforms so we can assume the men's uniforms will look identical if not similar to the women's. Both teams will be wearing the same kind of shoes this year; Adidas D Roses which just reinforces this assumption.
UPDATE: These will most likely be just WBB uniforms.
The jerseys seem to be part of the Adidas Future Star jersey line. They feature a font that isn't available on the standard team uniforms from Adidas, which is a good thing. The jersey images below are edits we made using the Mason font to fit what we saw at Mason Madness.
The shorts on the other hand are very different from anything we have seen on the adidas miTeam page. They feature the adidas logo in Mason green near the hip with green and gold stripes running down the side, opening up to a green patch with the George Mason starbolt logo. The shorts and jersey combo will be similar to what the Wizards will use for their season. The jerseys used in this set are similar to the Future Star line used as the basis in the images above — the only differences are on the back with additional logo placement and stripes running down the sides of the jersey.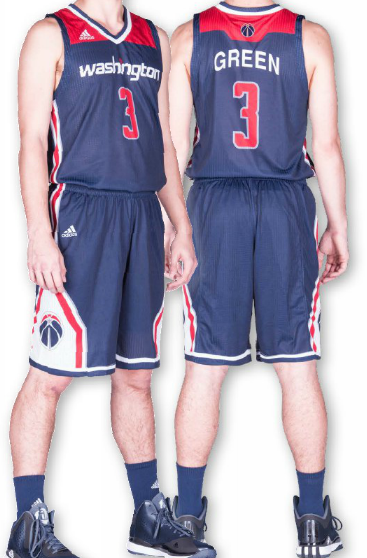 We've reached out to Mason and Adidas about uniforms and we haven't heard back.