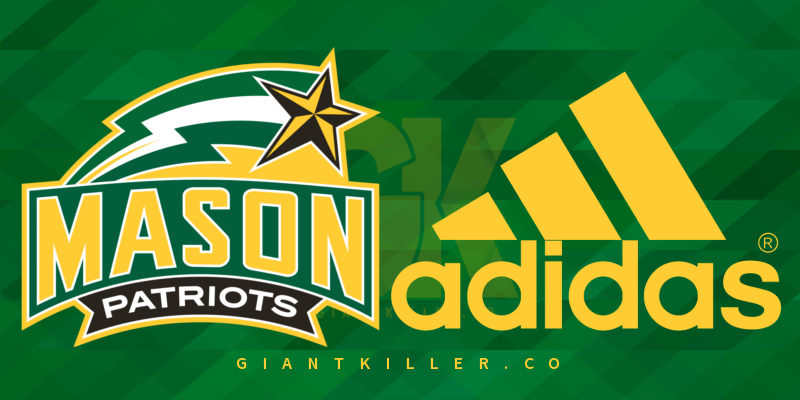 The first bit of adidas gear that will be available to Mason students and fans at the Bookstore on campus will be the Adidas sports tees. These t-shirts are similar to the Nike sports tees that are currently in stock at the bookstore. The shirts will feature our school's name "Mason" or "George Mason" (If Adidas reads our branding profile) and will be followed by a bar with the sport and finally the mascot, Patriots with the adidas logo below it. UCLA, a long time adidas school, is a good example of what our 2015/2016 sports tees will look like (below). As of now, only the Mason Soccer tees are available — arriving 10/2/2015. The soccer tees are not for sale online yet but, are available at the Fairfax bookstore. The rest of the shirts will begin to arrive before basketball season.
The sideline gear which is basically everything else: replica jerseys, jackets, polos, hats, shorts, underwear (just kidding), etc. will not be available until after basketball season — June 2016. According to the bookstore staff, the switch to adidas was a long one so they couldn't order enough gear for this season. Unless Adidas begins selling Mason gear on their store, which is very unlikely since Mason isn't a Power-5, we will not have sideline gear until the summer of 2016.
Unfortunately, the process of choosing the new athletic sponsor took so long, we were unable to secure any merchandise for this 2015/2016 season. All of Adidas ships from oversees.

– Mason Bookstore Staff
What our sideline gear may look like (based on UCLA's 2015/2016 LookBook). Things may change between now and June 2016 since it will be gear for the 2016/2017 season.
We have reached out to adidas and they did not comment on when they will release Mason gear.