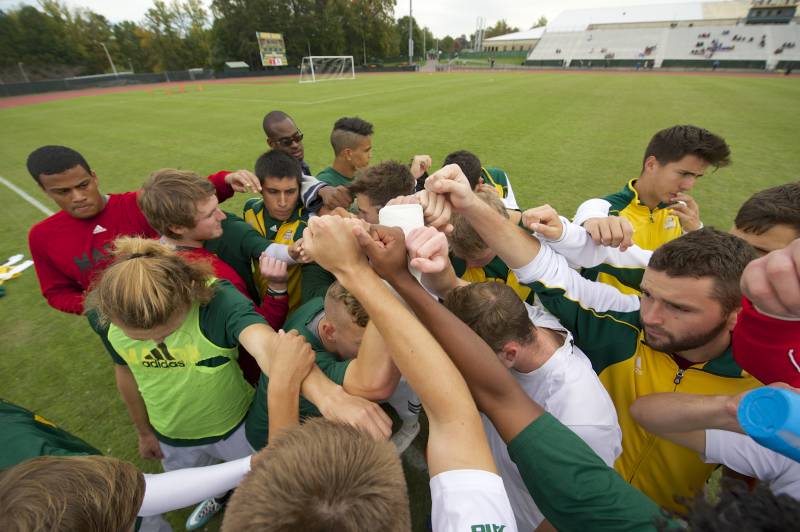 As the regular season approaches, the Atlantic 10 conference has released their poll of all 13 coaches.
At the top of the list are Saint Louis, URI and George Mason at 3rd. Greg Andrulis enters his 11th season at George Mason with nine freshmen players including Burke, VA local, Stephen Durbin, who was voted onto the Preseason All-Rookie team.
FULL PRESEASON STANDINGS BELOW
Key players like German players; Steffen Kraus, injured last season, Daniel Hoffman and Henning Dirks return this season along with returning upperclassmen Taylor Washington and Jannik Eckenrode.
Get your Fall Sports Pass so you don't miss out any of the action this season. George Mason hosts VCU and the A-10 tournament this season.
| | |
| --- | --- |
| 2014 Overall Record, A-10 Record | Total Points (1st Place Votes) |
| 1. Saint Louis (14-5-2; 5-1-2) | 162 (7) |
| 2. Rhode Island  (13-5-3; 7-1-0) | 141 (3) |
| 3. George Mason (11-4-5; 4-2-2) | 139 (1) |
| 4. VCU (7-8-5; 4-1-3) | 135 (1) |
| 5. Davidson (10-2-6, 4-2-2) | 120 (1) |
| 6. Dayton (7-7-5; 3-3-2) | 105 |
| 7. Fordham (8-9-4; 3-3-2) | 96 |
| 8. Duquesne (8-7-3; 3-4-1) | 74 |
| 9. La Salle (7-9-3; 3-3-2) | 65 |
| 10. George Washington (6-9-2; 2-4-2) | 56 |
| 11. Saint Joseph's (7-7-4; 2-5-1) | 45 |
| 12. Massachusetts (3-14-1; 2-5-1) | 29 |
| 13. St. Bonaventure (1-15-0; 0-8-0) | 16 |