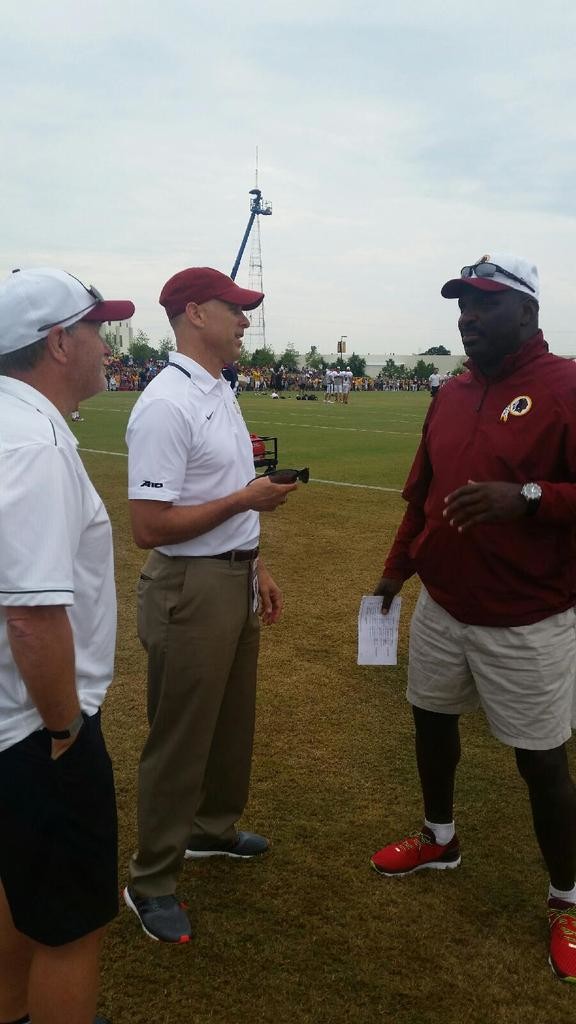 Brad Edwards was at the Redskins Training Camp yesterday and during his time there he sat down with Doc Walker and Brian Mitchell on ESPN 980 Radio. After asking him about his days with the Redskins, Brad was asked about the possibility of George Mason starting a football program.
"Part of me being hired was shut it down or make it work"
Brad, unlike administrators before him, didn't just say "NO", he explained why it's something on the back burner — not totally dismissing it. Brad stated things like the rising cost of building a stadium (especially in an expensive area like Northern Virginia as compared to buying cheap farm land elsewhere), the huge leap George Mason would have to take to even be competitive against big-budget-established programs and finally new state regulations on how Athletics can get their money. If we were to get a program we would need to increase revenue from athletics, increase our how much our donor base gives and before we can even start paying for a George Mason Patriots Football program we would have to get approval from the Virginia state legislature to start and then again to move up to FBS/BCS.
Although he was asked about Football, he mentioned that basketball at Mason has a historically good program, the impact the Final Four run had on the university and that basketball has a better return on investment than football (referring to an existing basketball program v.s. a startup football program). Brad Edwards also shouted out how good our academics at George Mason are — shout out to the Engineering school fam.
FULL SHOW: START @ 6:20 for Brad Edwards on Mason Football
NOTE FROM THE AUTHOR:
The cost of establishing, maintaining and growing a Football program is huge; Title XI, stadium, coaching staff, locker rooms, practice facilities and now add to that the cost-of-attendance model — the cost stacks up quickly. Starting a football program at George Mason, although we are all for it, would take a lot of work from fans, alumni, current students and administrators especially since we are still growing our reputation as a top-notch research university (academics come first for us here).  Athletics would have to add Field Hockey, Sailing and/or cut some men's sports in order to comply with Title XI (equal scholarships for men and women sports). Building a stadium is something we need. We have a great arena that will get renovations it desperately needs with the recent EagleBank deal and we should have a stadium to match. Brad seemed to not want to stay stuck in FCS so with that in mind, our stadium would have to seat more than 15,000 since FBS requires an average attendance of at least that amount. Building a relatively small stadium (20-30K stadium) would come at a huge cost for the university most likely requiring a corporate partner or a huge donation rally from alumni and friends of George Mason.
A recent economic study from Stanford found that stadiums don't have spur economic growth like arenas do so if we build one, it would have to be useful for a wide variety of sports (like UMD's, also used for lacrosse) and rent it out to other forms of entertainment. Having a stadium this size in Fairfax could be rented out to USL/NASL teams, used as an outdoor concert venue, host a small bowl game and even be used for bigger university programs to hold exhibition games in the DC area in a small more intimate stadium like Virginia Tech-West Virginia at FedEx Field in 2017. I personally would like to see a soccer-like stadium with a smaller seating capacity (20-25K) which for a young school like George Mason who wouldn't see huge ticket sales at least for a decade, would be a smart investment. If we somehow get lucky and have a successful program, expansion would have to be in order and the west side of campus has tons of room to build. Having a football program at Mason would help drown out the influence of strong power five schools like Virginia Tech, Maryland, UVA and even Penn State in Northern Virginia — at least just a little bit. The amount of talent in the region would also be a plus. Again, we are thinking ahead here (a couple decades at least) but, it is also something to think about. Men's Lacrosse is also on the rise with schools in the area like Georgetown, Maryland and most recently Towson having success with lacrosse. Soccer's popularity, with the growth of MLS and success of both men's and women's national teams, is on the rise. A jump in NCAA soccer attendance in a decade or is possible as the game continues to expand. Adding that to the mix, a stadium upgrade wouldn't be such a bad idea.