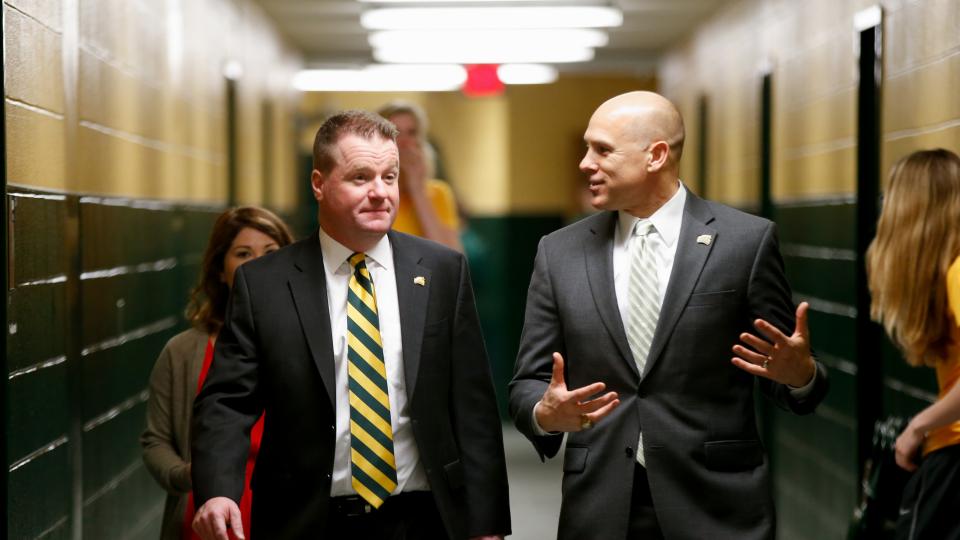 In a recent story with George Mason's magazine, Mason Spirit, Brad Edwards briefly talked about his vision for the Patriot Center, now called the EagleBank Arena, to keep up with the state of college sports. Athletics have basically become a facilities race. Even within the great commonwealth of Virginia, schools are building, expanding and outspending each other.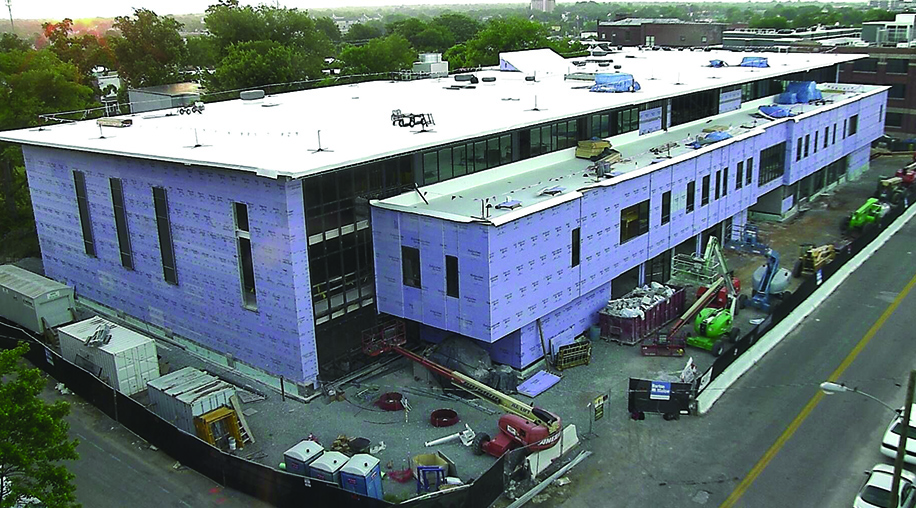 Pictured: VCU Practice facility
Our national-championship-less friends in Blacksburg, spent $21 million on their basketball practice facility Han Hurst Practice Facility back in 2008 — not to mention the Football indoor practice facility that cost another $21.3M but that's not relevant to us. VCU has also started building their facility, a $25 million project, and renovated Verizon Arena (they sold their name rights too, fam) at The Stu — adding more premium seating and a LED-video-band around the 7,000 seat arena. University Richmond has also done some renovations, $17 million dollars worth — adding a video board and some nice seats, etc. James Madison is also trying to raise funds for a new arena which would include a practice area for the Dukes — which looks something like what NJIT has in the works too but, costs a lot more since it's not in the middle of no-where. UVA has their practice facilities within their arena, John Paul Jones Arena, as well.
During the meet and greet with Dave Paulsen, the new Mason basketball head coach talked about the need for a renovated locker room and practice facility, stating that the Patriot Center's multifunctionality as a basketball arena and event arena could be difficult — "we tried having practice here but, the circus was in town (paraphrased)" According to the Mason Spirit article, Brad Edwards is on board with the idea of a practice facility for the team. Mason's Fairfax campus would have tons of room for one on the west end of campus, where most of the practice fields are. The recent opening of "Campus Dr.", connecting east and west sides of campus under route 123, would allow for easy access to the practice facility once built. If one were to be built near the EagleBank Arena, it would involve the closing down of partial or complete parts of a parking lot which wouldn't go great with Mason students.
Mason, with their recent deal with EagleBank, hopes to give the Patriot Center (EagleBank Arena) a face-lift. Brad has stated he envisions a video scoreboard that can also support instant-replays, advance lighting (aka better lighting), WiFi (students already have WiFi access but, we are assuming general access) and finally public areas for Mason fans to hangout and still watch the game. Nothing has been officially disclosed but, we have heard about hospitality/premium seating area near where the students and the Green Machine seats which could be part of that plan for "public areas" If this is true, it shouldn't bring our overall seating capacity down dramatically which is also something some Mason fans have been asking for (new arena with less seats) but, we also have to keep in mind that EagleBank Arena is used for more than just basketball. Don't like empty seats? Buy more tickets and tell your friends to come to games.
Increasing the Basketball budget to keep up with other programs is also part of his vision. Brad hopes to grow budget through gifts and ticket sales, from 25% where it is now to 50%. It does seem like a long shot especially after four years of underperforming but, it's a new era for Mason athletics as a whole with new coaches for women's soccer, volleyball, wrestling, women's lacrosse and a deal with Adidas that is across the board.
Help be a part of that vision and donate to Mason Athletics today!