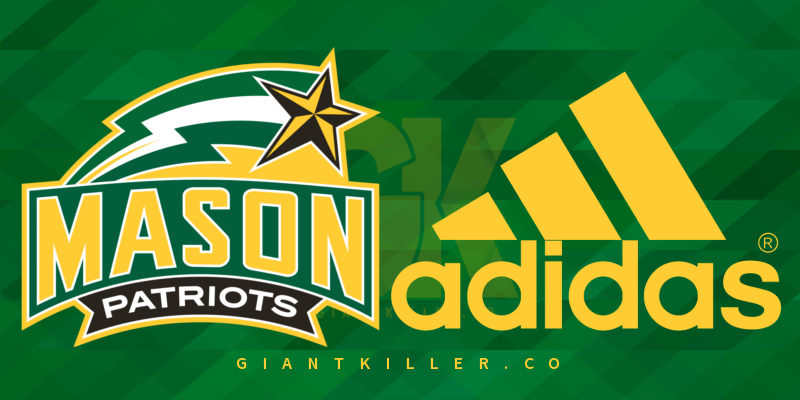 A Washington Post article talked about the Dave Paulsen hiring contract and the Adidas school-wide deal that was also put into effect July 1st, 2015 (along with the EagleBank Arena deal).
We are going to focus on the Adidas contract. According the the Washington Post, George Mason will buy $150,000 worth of Adidas gear (footwear, uniforms and accessories) for its athletics programs. The gear will be sold to Mason from 37.5% to 50% off it's retail value. In order to help out with the transition from Nike and other companies, Adidas will give Mason $100,000 in product allotments it's first year. Along with the discounts and free gear, Mason will also have to add Adidas signage to George Mason Stadium's fences, the outfield walls of the Softball Complex and Spuhler Field (Baseball). For Basketball, the Patriot Center (EagleBank Arena) will get branded hoop padding and on the scoreboard (Possible new scoreboard in the works?).
UPDATE: No new scoreboard, just Adidas and EagleBank signage being added to existing one (via @MasonAthletics)
| School | Contract Value | Retail Value (Min) | Retail Value (Max) |
| --- | --- | --- | --- |
| George Mason University | $150,000 | $240,000 | $300,000 |
Adidas will also give Mason $160,000 worth of gear for promotion of the Adidas brand. Our Men's basketball team, receiving the largest piece of that pie, followed by our Women's team and our Lacrosse team.
| Men's Basketball | Women's Basketball | Women's Lacrosse | Misc | Total |
| --- | --- | --- | --- | --- |
| $90,000 | $50,000 | $10,000 | $10,000 | $160,000 |
The deal also includes bonuses for successful programs to help them continue to thrive. The largest bonuses will go to Mason's Men's Basketball team — the sport with the most media coverage. The bonuses come with reaching the NCAA tournament, nothing specific on winning conference titles but, a lot of times winning conference titles is an auto-bid to the NCAA tourney. Bonuses can range from $5,000 to $35,000 for reaching the tournament for Basketball (both), Soccer (both), Baseball and Softball. Although no specific information was given, we can assume Men's basketball will be on the higher side of that range. For basketball (men's) specifically, additional bonuses will be given based on how far we get in the tournament. The bonuses will not be cumulative, meaning that we don't get money for every step, we get the amount given for as far as we go. For example, if we make it to the Elite Eight, we don't get $45,000 rather we get $25,000.
| NCAA Tournament (MBB) | Bid | Sweet 16 | Elite Eight | Final Four | National Championship |
| --- | --- | --- | --- | --- | --- |
| Bonus | $5,000 to $35,000 | $20,000 | $25,000 | $75,000 | $225,000 |
Was this a good deal?
Short answer; Yes. It's the first deal of it's kind at George Mason, like we (GK) always say we are a really young school so getting a deal like this is great — usually reserved for larger schools like University of Virginia and Virginia Tech. Longwood is the only other Virginia school with a similar deal with Adidas (Non Football). Since Virginia's online contract website (VASCUPP) for universities was built in 2009, pre-dating the 2008 Longwood contract with Adidas details about their contract couldn't be found other than that Longwood's deal is longer than Mason's — Five years with an option to extend 5 years and 5 additional 1 year extensions after that. In addition to Mason, Adidas has inked University of Louisville and University of Miami — two ACC schools.
The Miami and Louisville contracts are way above what Mason is getting but, that is mostly due to their football programs — Miami, according to ABC News, will get an estimated $90 million ($7.5M/year) based off Louisville's disclosed 5-year contract for roughly $39 million ($7.8M/year). For basketball, Miami, a private institution, hasn't disclosed how much they're getting but, if the deal is similar to Louisville's it breaks down to:
| NCAA Tournament (MBB) | Bid | Sweet 16 | Elite Eight | Final Four | National Championship |
| --- | --- | --- | --- | --- | --- |
| Bonus | $5,000 to $35,000 | $50,000 | $75,000 | $150,000 | $300,000 |
| Compared to Mason | | +$30,000 | +$50,000 | +$75,000 | +$75,000 |
For a "mid-major" school with no recent success, only the promise of future success, it is a pretty good deal for George Mason.
We have reached out to Adidas for information regarding fan gear and uniform information, still have not heard back.